RAFAEL CARVALHO RETAINS BELLATOR MIDDLEWEIGHT WORLD TITLE WITH DOMINANT PERFORMANCE
COMPLETE RESULTS, PHOTOS, VIDEO & QUOTES FROM BELLATOR 190 & BELLATOR KICKBOXING 8 IN FLORENCE, ITALY
ALSO, BELLATOR SET FOR HISTORIC ROME DEBUT JULY 7, 2018
FLORENCE, Italy – A sold out crowd was on hand for Bellator's return to the Nelson Mandela Forum in Florence, Italy to cheer on their national hero, Alessio Sakara, in his bid for the middleweight title at Bellator 190.  However, reigning champion Rafael Carvalho emerged victorious in his third defense of the belt with yet another exciting performance. With the victory, Carvalho is now tied with Alexander Shlemenko for most title defenses in promotional history.
Additionally, Bellator has announced plans for a summer return to Italy in the country's capital city of Rome on July 7 with an event that will air on the soon-to-launch Paramount Network. The date marks the company's first trip to Rome, after hosting multiple events in both Torino and Florence.
"After the success of our events in Torino and Florence, Italy over the last two years, we knew that it was time to do a show in Rome, a city rooted deep in combat sports history," Bellator President Scott Coker said. "The Italian fans have shown their passion for the sport and we look forward to bringing a huge card to Rome next year on July 7."
Additional details about the card, including matchups, ticket and broadcast details will be announced shortly.
Bellator 190: Carvalho vs. Sakara Results:
Rafael Carvalho (15-1) defeated Alessio Sakara (19-12, 2 NC) via KO at 0:44 of round one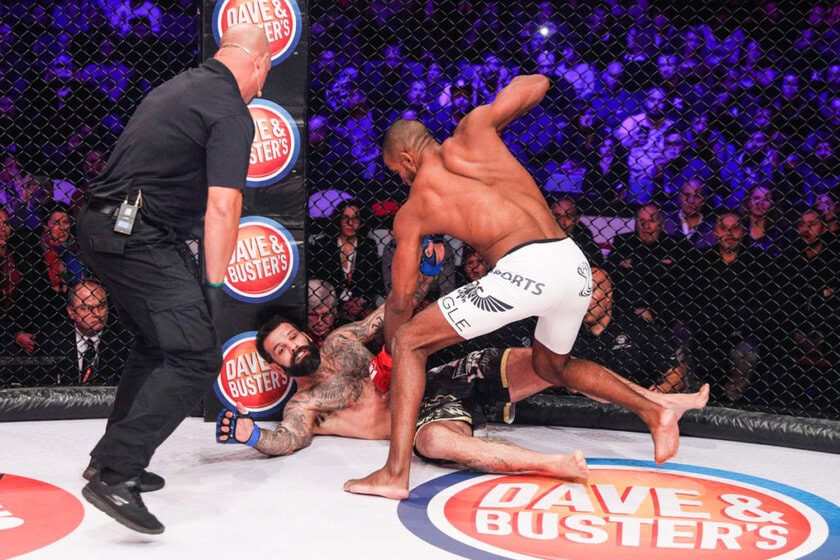 Quote: "I trained really hard for this fight. I made many sacrifices to get here and get ready for a tough fight with [Alessio] Sakara. With my preparation, I was able to get a good result quickly and I'm happy about that. I hurt my hand a little bit in the final sequence, maybe I punched the mat, but I hope to get back in the cage as soon as possible to continue defending my belt."
Brandon Girtz (15-7) defeated Luka Jelcic (10-3) via TKO at 1:57 of round one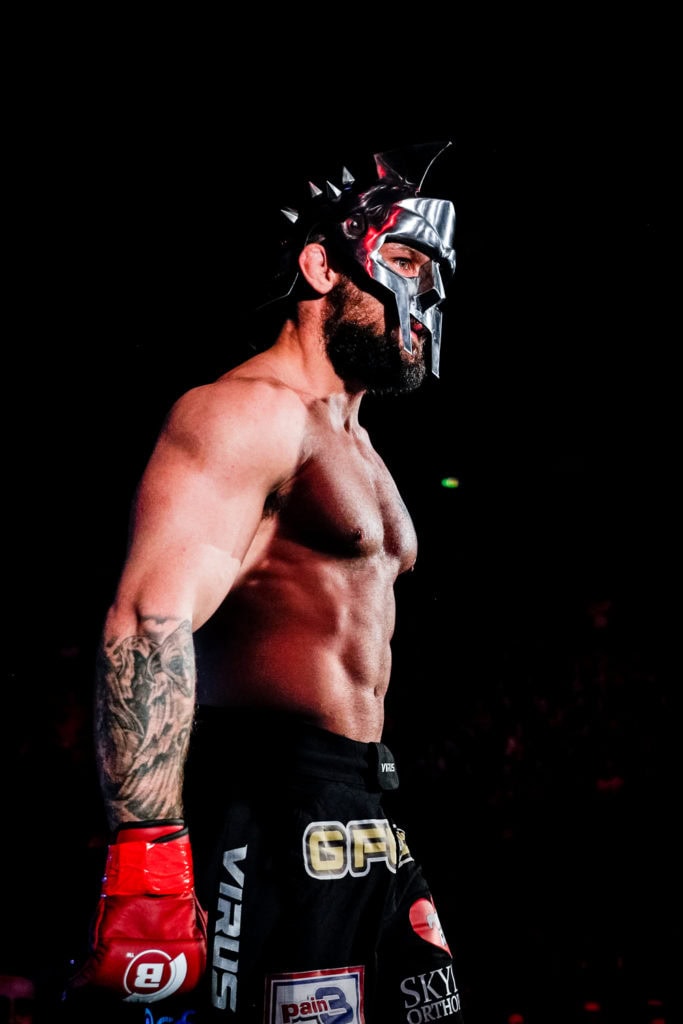 Quote: "I was just going out there to throw bombs and put him away quickly and that's exactly what happened. That's what I usually do. Training camp was great, I was able to actually prepare for my opponent and it worked out well. I've had a great experience out here in Italy, it has been a journey and I treated it like an adventure. It was my first time fighting out of the country so everything was an adjustment and I came out nine days in advance to get acclimated. I want another tough opponent. Luka [Jelcic] was a tough guy, he was no slouch whatsoever. I want another top guy, that's why I'm here – to fight the top guys and that's what I've been doing since I got here to Bellator."
Alejandra Lara (7-1) defeated Lena Ovchynnikova (12-5, 1 NC) via rear-naked choke at 4:09 of round one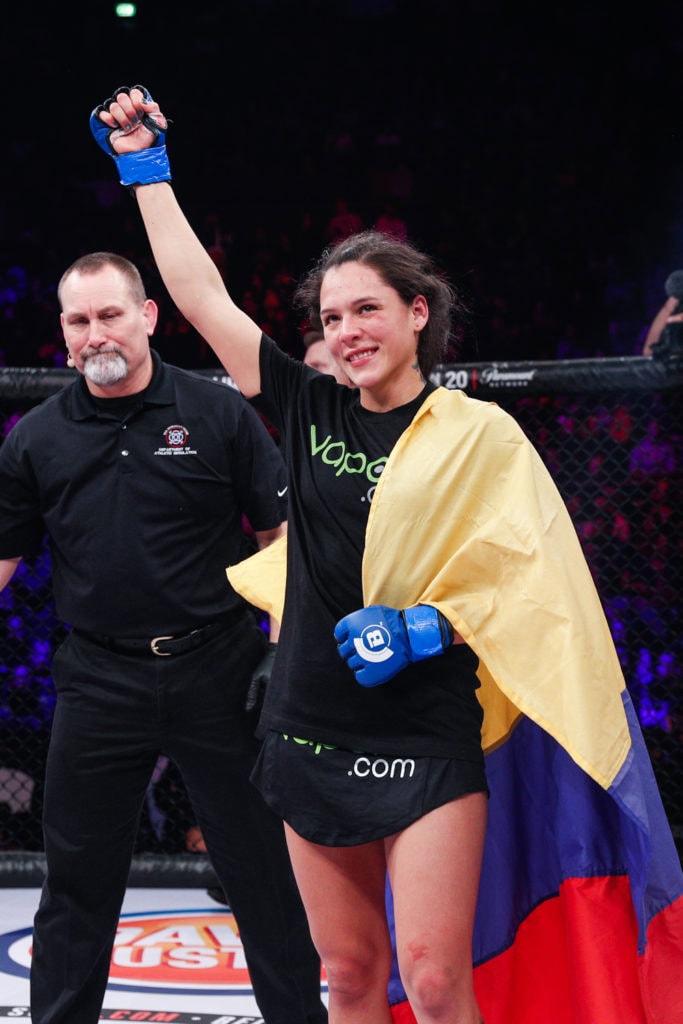 Quote: "I was very excited for my Bellator debut and to be the first Colombian female in the promotion. I've been training incredibly hard, I felt that I was very well prepared for this fight. I just wanted to show the world how tough I am and I think I did that tonight. I spent half of my camp in Guadalajara with Alexa Grasso and Team Grasso there, and then I also went up to work with Roufusport Academy in Milwaukee to prepare for the fight. Both camps were amazing for me, and I learned a great deal, I just want to keep learning and competing. I am prepared for whatever is next. I look forward to big challenges in Bellator."
Carlos Miranda (11-3) defeated Mihail Nica (6-1) via unanimous decision (30-26, 30-27, 30-27)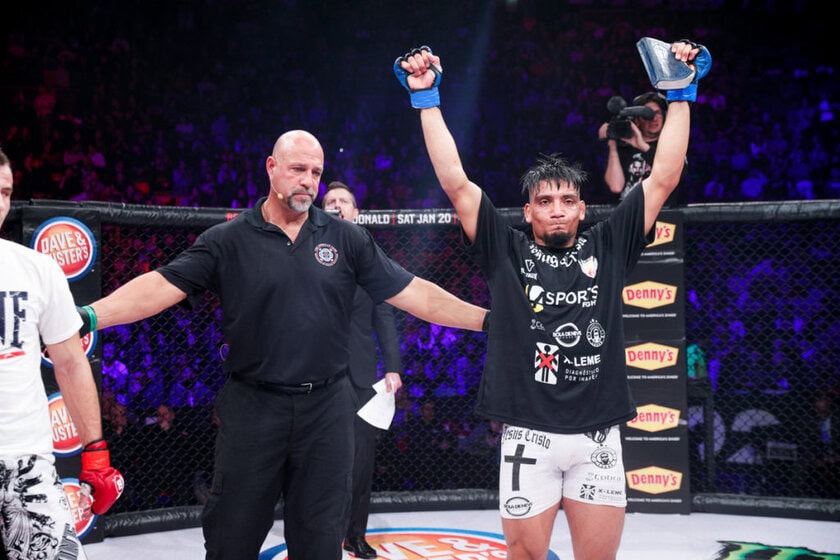 Gregory Babene (19-11) defeated Tony Zanko (1-5) via arm bar at 2:04 of round one
Bellator Kickboxing 8 Results:
Raymond Daniels (13-3) defeated Giannis Boukis (27-2) via unanimous decision (30-27, 30-27, 29-28)
Quote: "Speed is definitely my advantage every time I get in the ring, and it was no different tonight. First and foremost, I'd like to give all the glory to God, because through him, all things are possible. I'd like to thank my opponent for taking this fight. It's an honor to come here and fight in front of the Italian people. This is an incredible country with beautiful people, beautiful food, beautiful wine, great history. This is a fighting country. I think I might have some Italian in my DNA because every time I come here my blood boils and I feel like I'm ready to spar, I'm ready to fight. To anyone who wants it: come on, take a number and stand in line. You have seen my highlight reel, if you want to be part of it – I promise you, I can make you famous."
Joe Schilling (23-9) defeated Filip Verlinden (44-19-1) via unanimous decision (30-27, 29-28, 29-28)
Quote: "I've got to watch the replay again. I thought Filip did a really good job and I was really excited to be fighting somebody of his caliber. Going into the fight, I thought he was the toughest guy Bellator has given me. When we were both with my last promotion, we were both top three the entire time I was there. I knew he was going to be a tough opponent, that's why there was no trash talk from either one of us, I think we were both ready for a great fight and we delivered. I honestly was pretty frustrated with my performance and after the fight I told Jimmy (Smith) that I thought he had won. Now I'm back here in the locker room and everyone is telling me that I'm crazy for that take. I'd love to fight him again and finish him off. Maybe for a world championship. That'd be nice. But for now, I'm excited to go enjoy my vacation."
John Wayne Parr (98-32) defeated Piergiulio Paolucci (24-6-1) via TKO at 2:32 of round three
Quote: "I'm very excited coming off of this performance. I thought my opponent was a bit awkward. I wanted to give him respect because I knew he had heavy hands. But once I felt that I could win, I started walking forward more and I threw a couple spinning back kicks just for fun, just to entertain. I had the one spinning heel kick that landed and thought that was pretty cool. I was pretty excited about that. I was just happy to get the stoppage really, because nobody wants to win by points. I'm inching closer to 100 victories and I'd love to hit that milestone here in such a major promotion like Bellator. Especially at my age of 41, being able to fight on the big stage is so surreal. I can't believe that I'm still here competing in this sport that I love, and more than just competing, I'm being successful. I've got to thank Scott Coker, everyone at Bellator and Spike, and everyone that follows the sport for giving me the opportunity to do what I do. I'm really scared to be 41 and know that one day I'm going to have to retire, but right now, I'm having too much fun to stop."
Hamza Imane (50-12-2) defeated Kevin Ross (45-13) via split decision (29-28, 29-28, 28-29)
Gabriel Varga (14-5) defeated Roberto Gheorghita (30-7-3) via TKO at 2:49 of round two