LFA 30 MAIN EVENT:
"CURTIOUS"
CURTIS MILLENDER
vs.
"THE PHOENIX"
NICK BARNES
WELTERWEIGHT WAR
FRIDAY, JANUARY 12th LIVE on AXS TV
COSTA MESA HALL AT OC FAIR GROUNDS
COSTA MESA, CALIFORNIA
LFA 31 MAIN EVENT:
"THE WOLFMAN"
BOBBY MOFFETT
vs.
KNOCKOUT SENSATION
THANH LE
INTERIM FEATHERWEIGHT WORLD TITLE
FRIDAY, JANUARY 19th LIVE on AXS TV
COMERICA THEATRE
PHOENIX, ARIZONA
LFA 32 CHAMPIONSHIP DOUBLEHEADER:
"ALL IN"
BRENDAN ALLEN
vs.
"FLUFFY"
ANTHONY HERNANDEZ
MIDDLEWEIGHT WORLD TITLE
+
"SUPERMAN"
RYAN SPANN
vs.
"THE SPARTAN"
ALEX NICHOLSON
LIGHT-HEAVYWEIGHT WORLD TITLE
FRIDAY, JANUARY 26th LIVE on AXS TV
GOLDEN NUGGET HOTEL & CASINO
LAKE CHARLES, LOUISIANA
TICKETS ON SALE NOW AT TICKETMASTER.COM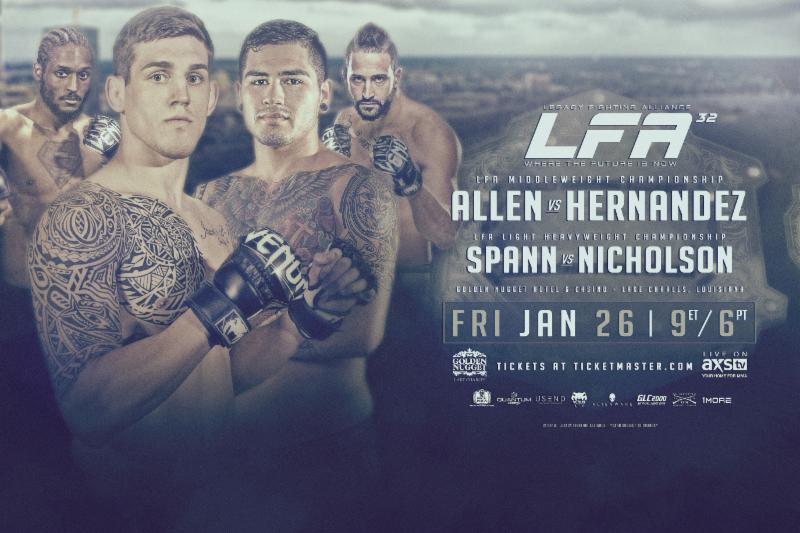 LAS VEGAS, Nevada – Legacy Fighting Alliance (LFA) CEO Ed Soares announced the promotion will kick off 2018 with a 1-2-3 punch in January with a trio of star-studded shows in California, Arizona, and Louisiana.
The main event of LFA 30 will feature the long-awaited clash between southern California kingpins and top LFA welterweights "Curtious" Curtis Millender and Nick "The Phoenix" Barnes. LFA 30 – Millender vs. Barnes takes place Friday, January 12th at Costa Mesa Hall at  OC Fair Grounds in Costa Mesa, California.
The following week, LFA heads to Arizona with a fierce interim featherweight title fight in the Valley of the Sun. In the main event, former RFA title challenger and BJJ black belt Bobby "The Wolfman" Moffett battles knockout sensation Thanh Le for the LFA interim featherweight title. LFA 31 – Moffett vs. Le takes place Friday, January 19th at the Comerica Theatre in Phoenix, Arizona.
LFA caps the month of January with a pair of title fights in southern Louisiana. In the main event, former LFA title challenger Brendan "All In" Allen faces top undefeated prospect Anthony "Fluffy" Hernandez for the vacant LFA middleweight title. In the co-headliner, red-hot Ryan "Superman" Spann will lock horns with UFC vet Alex "The Spartan" Nicholson for the inaugural LFA light-heavyweight title. LFA 32 – Allen vs. Hernandez takes place Friday, January 26th at the Golden Nugget Hotel & Casino in Lake Charles, Louisiana.
The entire main card of all three of these events will be televised live and nationwide on AXS TV at 9 p.m. ET / 6 p.m. PT.
"I'm excited to kick off 2018 with three straight weeks of LFA action across the country", stated Soares. "Curtis Millender and Nick Barnes are coming off big wins in LFA headliners and will meet in the main event of LFA 30 in southern California on January 12th. The following week, we head to Arizona with top contenders Bobby Moffett and Thanh Le meeting for the interim featherweight title in the main event LFA 31. We finish the month with two title fights at LFA 32 in southern Louisiana. Brendan Allen faces Anthony Hernandez for the vacant middleweight title in the main event and Ryan Spann will take on Alex Nicholson for the inaugural light-heavyweight title in the co-headliner."
Millender (13-3) returns home to the building where he fought and won his first seven fights. The Orange County juggernaut is looking to build off a perfect 2017 where he won three fights, including back-to-back LFA headliners. His most recent win came via highlight reel Head Kick KO in the main event of LFA 24. Millender will meet Barnes (12-2) in a long-awaited showdown between two of southern California's finest. The welterweight stars started their careers in the southern California regional circuit, moved on to Bellator, and will finally meet in the main event of LFA 30. Barnes, like Millender, is coming off an impressive win in an LFA headliner.
The main event of LFA 31 is a fight that casual fans and MMA purists alike are salivating over. It pits a rugged and accomplished BJJ black belt in Moffett (10-2) against one of the most dynamic strikers in all of MMA in Le (7-1) with the LFA interim featherweight title on the line. On paper, this is a textbook grappler vs. striker bout at its highest form. However, both men bring so much more to the table than what their respective martial arts backgrounds represent. Moffett, who trains out of The MMA Lab, has shown a willingness to throw down with anyone, while Le trains with BJJ wunderkind and UFC star Ryan Hall in northern Virginia.
LFA will conclude its busy month of January with a pair of title tilts in southern Louisiana. LFA standout and Louisiana native Allen (8-2) will get a second shot at LFA gold after going five rounds with current UFC star Eryk Anders for the inaugural LFA middleweight title in June. Allen quickly rebounded six weeks later with a submission win in the co-main event of LFA 18. He will face another highly-touted undefeated prospect for the title. This time it comes in the form of the northern California destroyer Hernandez (5-0). The man known as "Fluffy" has finished everyone he has faced inside the first round.
The co-main event of LFA 32 will crown the inaugural LFA light-heavyweight champion. Spann (12-5) is a former Legacy FC title challenger that will look to capture LFA gold in front of his home crowd. "Superman" is riding considerable momentum heading into this fight after dispatching a pair of top contenders in the first round of his last two bouts at LFA 23 and LFA 27. He will face Nicholson (10-4) who has been a man on fire since his four-fight run with the UFC ended in May. The Florida native has been a tour de force since then as he looks to make his way back. In the past two months, "The Spartan" has knocked out three quality opponents in grand total of 3 minutes and 28 seconds.
In September 2016, Legacy FC and RFA officials announced that they would be merging to form the premier developmental organization in Mixed Martial Arts (MMA) starting in January 2017. Legacy FC and RFA have launched the careers of over 150 athletes that have reached the pinnacle of MMA by competing in the UFC.
Please visit LFAfighting.com for bout updates and information. LFA is on Facebook at Legacy Fighting Alliance. LFA is also on Instagram at @LFAfighting and Twitter at @LFAfighting.
About LFA:
LFA is a professional Mixed Martial Arts promotion that gives rising stars and top contenders the opportunity to prove their talent to fans and leaders in the industry. LFA was formed by the powerhouse merger between RFA and Legacy FC. LFA presents live Mixed Martial Arts events on a monthly basis around the United States including Las Vegas, Los Angeles, Denver, Dallas, and Houston. LFA can be seen live in over 48 million homes nationally through its television deal with AXS TV. Based in Houston, TX,  LFA is one of the most active and respected MMA organizations in the fastest growing sport in the world. (The Octagon, Ultimate Fighting Championship®, UFC®, and the eight-sided competition mat and cage design are registered trademarks owned exclusively by Zuffa, LLC. All rights reserved).
About AXS TV FIGHTS:
AXS TV Fights presents more LIVE mixed martial arts and kickboxing events than any other television network with 45 scheduled LIVE world-class fight cards in 2017 Friday nights at 9pE/6pP. AXS TV Fights