Host Jay "Big Jay Bowski" Pagliaro and Shawn "Dallas" Hall are joined in-studio by ringcard girl and fitness competitor Deseree Flores.
UFC 216 PRESS CONFERENCE
The trio discussed how Tony Ferguson almost came to blows with Fabricio Werdum. Among other things, Ferguson asked Werdum how it felt to be on his (Tony's) undercard and the former Brazilian fighter had a lot to say – all in Portuguese – to the UFC 216 headliner.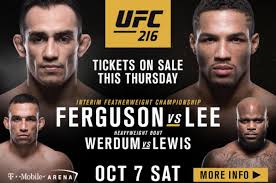 There is talk swirling that rather than seeing McGregor/Diaz 3, the winner of the Ferguson/Kevin Lee headliner may get the next shot at Connor McGregor. Desire and Dallas felt McGregor will face Diaz again. However, Dallas felt a match against Diaz makes the interim belt that Ferguson and Lee are fighting for worthless if that happens. Everybody agrees the other two fights were great and the trilogy is where the money is.
The discussion also turned to the fact that of the trilogy happens, the rankings – as they are currently calculated and valued – are also worthless. This may already be in effect as we recently saw Dan Henderson (not a top-ranked opponent) face Michael Bisping for the middleweight title. Desire mentioned that the "business side" has taken over and eventually it may be like watching wrestling.
Dallas said "Right now there's a path (to becoming a champion). If you lose that ranking system…how do even become a star? Just mumble what Conner says?". Jay brought up how Bellator MMA fighter Benson Henderson said the talkers are getting places and "the casual fans are going to leave when McGregor does".
Dallas feels McGregor's camp "campaigns" for who they want to fight next and currently they are campaigning for Diaz. It also represents the easiest match-up for McGregor with fighters like Ferguson, Lee and Khabib Nurmagamedov waiting in line for a title shot.
LFA 24 COMPETITOR CURTIS MILLENDER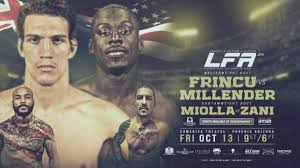 Curtis "Curtious" Millender headlines LFA 24 on October 13th in Phoenix and called into the show. Jay described his opponent list as a "murderer's row" that included Bellator MMA veteran Brennan Ward and was supposed to include Michael "Venom" Page. Now he'll face local fighter Matthew Frincu (11-2). Curtis feels he can "shut down Matthew's striking". Desire brought up the fact that most of Millender's wins have been by decision while Frincu finishes most of his opponents and Curtis said "I'm always looking for a finish and sometimes it just doesn't come out that way…I'm fighting killers."
Dallas asked what does he need to do to get to the next level and he said "knock him out. I need to finish him. I need to win decisively. Once I get this win, there will be no more overlooking me". He fought Ward in Connecticut – a place where Ward has a "cult following" – so he's prepared to face Frincu in Phoenix. "I've been shocking people my whole life so I'm not worried about it at all" he said.
He trains with former SHOOTO Champion Eric Paulson and Ben Jones at CSW and he isn't afraid of Frincu's striking given the strength of his team.
STOCK RISE AND FALL
The crew talked about upcoming fights with Francis Ngannou (taking on Alistair Overeem), Dominic Cruz (taking on Jimmie Rivera, and possibly moving down to 125 lbs to face Demetrious Johnson with a win) and Stipe Miocic's contract issues.
They also talked about Chuck Liddell possibly facing Chael Sonnen in Bellator MMA as a lead into the stock rise and fall. Dallas felt Aaron Pico's stock rose with a KO win over Justin Linn at Bellator MMA 183 ang Gokhan Saki with a KO win over Henrique da Silva. Desire felt Roy Nelson's stock rose with his decision win over Javy Ayala and Patricky Pitbull with a win over Benson Henderson on the same Bellator fight card. Jay felt Jessica Andrade made the biggest splash over the weekend with her unanimous decision win over Claudia Gadelha at UFC Fight Night and Paul Daley with a KO win over Lorenz Larkin at Bellator 183.
As far as dropping stock, Dallas felt Yushin Okami and Claudia Gadelha lost ground. Desire felt Justin Linn's stock dropped while Jay felt former PRIDE FC champion Takanori Gomi took a huge step back. Gomi was once considered top 5 in the world and he has now lost 5 in a row with a 4-9 overall record in the UFC.
EFRAIN ESCUDERO AND BETHE CORREIA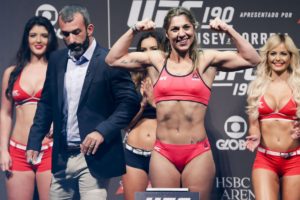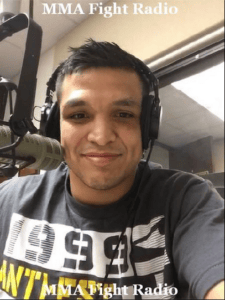 Brazilian fighter and former title contender Bethe Correia is in Texas bettering her wrestling skills and recovering from injuries. She isn't planning on fighting again in 2017. The UFC wanted her to fight in November but she broke her jaw and it is her decision to wait until January of February to get back in the cage. Dallas asked how a rematch with Ronda Rousey now would go and she felt the fight would go much differently due to her experience with her (Bethe) capturing the title. She also believes she is learning a lot more now and in reality, despite her experience, she is still very young in the sport. She also doesn't care who she fights now that her focus is on herself.
SABINA MAZO
Sabina Mazo, known as "The Columbian Queen", called into the show to discuss her head kick KO of Lindsey Williams at LFA 23 last weekend. It was virtually identical to the head kick KO of Jamie Thorton at LFA 9 and these impressive performances have here nominated for KO of the Year.
Even with the back-to-back KO's and a 4-0 record, she feels there's still work to be done in the LFA before heading to the UFC. "Maybe after 2 more fights…I want to be an excellent fighter before I step in the UFC" she said. She feels she needs to train more and gain experience in preparation for that opportunity. "I have more things I want to show in my game" stated, when asked if the next fight would end in a head kick KO as well. She trains at Kings MMA with IVC veteran and former Chute Boxe fighter Master Rafael Cordeiro and UFC 216 competitor Fabricio Werdum in Huntington Beach, California.
When questioned about her level of maturity at just 20-years-old, she said it was the discipline of MMA and that she "isn't in it for the money". "I do this from my heart. I put all my love into it."
MARCO BELTRAN AND EFRAIN ESCUDERO
TUF Mexico fighter Marco Beltran (8-5) called in to talk about his training with Efrain Escudero and Beltran's fight at UFC 216 against Max Schnell (9-4). Both fighters are coming off a loss. This time Beltran will not only have a full camp and be fighting closer to home, he had to deal with the loss of his mother just 2 days before his last fight.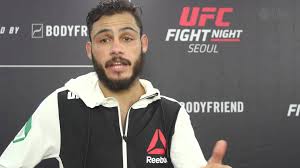 Efrain talked about the opening of his new gym since leaving The Lab and how he expects to be able to develop a lot of new talent in McAllen, Texas. He also mentioned that his entire team – and ring card girl Desire Flores – will be making the trip to Las Vegas for UFC 216. He also said he's taking Ferguson over Kevin Lee (who Escudero lost to by decision) and he will be fighting in Brazil in November. The gym opens next week after Beltran's fight. Efrain's working with the promoters of the Lux fight league in Mexico to build a minor league promotion to bring opportunity to young fighters.
The show closed with some good back-and-forth banter between Dallas and Efrain. As a coach, he believes he can relate to all fighters, having lost close decisions and knowing the struggle of the common MMA athlete. He felt he was done fighting until his kids set him straight with a kick to the stomach and pep talk.
As for Beltran's fight, Escudero he believes he has evolved as a fighter and everyone can see how he's progressed on the UFC Fight Pass.
Until next time,
James Hirth