Carlos Ortiz from MMA Fight Coverage got to speak to professional mixed martial arts fighter and coach Rob Emerson.  
Rob dedicates the majority of his time as a coach. He is currently part of the fight team at The MMA LAB. "I'm pretty much at The Lab full time. I have not officially retired. I am actually talking to the guys over at RUF. I'd like to get on their card and fight in Arizona. I have never fought in Arizona. I have got a lot of family and friends that will come out from California and a lot of our guys here in Arizona that support me too, so it would be really cool. I am also talking with one of my old managers that just signed with First Round Management and talking about possibly doing some Bare Knuckle Fights – BKFC."
View this post on Instagram
When asked his views on the Diego situation Emerson responded, "I've known Diego a long time: It's got to be 10, 15 years. I have done a few camps with him on and off. At BJ Penn's last camp when he fought Clay Guida me and Diego were out there as his trainer partners. I spent a lot of time with him and that being said I know I have gotten to pick his brain and have had some really deep intense conversations with him. Diego is an intelligent guy. He understands that there is something more here and he is interested and he wants to learn more. With that being said I think his mind is also in a vulnerable state and this guy Josh Fabia, or whatever, has totally capitalizing on it. I think the guy are going hard on the paint on him but I also think the guy is stepping on people's toes. Like walking into these UFC's and accusing all these guys of all this stuff. Man you kind of stepped up on a platform and like bit off more than he can chew, I think. If his curriculum or system worked so well then it would show. It would bear fruit of that. But it has not beared its fruit. Especially in Diego's performances. The only thing that is shown is these, like I guess, 'innovative training techniques' when you look at them, they are not really applicable to the sport of mixed martial arts. I can understand these training techniques for training the mind, but man there's other ways of training the phycology of an athlete and a fighter. Hanging them upside down and beating them with a stick and punching them in the fucking head, I'm sorry dude it's not the way you do it. This guy is a clown. I think what he is marketing himself as, The School of Self- Awareness, this guy is not aware of anything. He wouldn't be rattled so easy if he was such a cool level headed guy. I think he is a con artist. I think he has got Diego in his grasp. It's really unfortunate. The UFC did completely what was in their power to do. They paid Diego his show and win money. But they didn't give him the clout and notoriety that he would have gotten from that last fight. Which is a shame because that would have been a very honorable way to close out his legacy with the UFC, being the longest lasting fighter in UFC history. And all that just down the toilet because of this knucklehead frickin clown."
"It's not the first time we have seen a Joshua Fabia, or whatever his name is, in this sport, try to milk fighters and be there for themselves. You can tell right away if someone is in it for themselves or if he is there for the team and for his friends. I just don't see anything that guy taught or was talking about would translate over to the sport of mixed martial arts at all. Diego is an adult. He is a man; he will figure this stuff out sooner or later and where he goes from here who knows? I think it would be a good idea if he maybe hung it up for now. Maybe just pursue other things. He is not coming off some like great victory streak. He has taken a lot of knockouts. He has been in a lot of wars. He entertained us. It comes with a cost. The brain only has so much mileage on that and your mental health is not worth anything, there is no price no dollar amount. Diego is a good dude, he is intelligent, I wish him well from here. Who knows maybe he will go sign with Rizin or another show. It will be interesting to see."
Thoughts on fighters taking punches to the head:
"I'm big on human potential and human health and more so inured about the phycological side of being a martial artist. Especially now that I have stepped more into a coach's role instead of a fighters roll. First and foremost, there's physical things we can do to protect our brain. A lot of athletes now are taking Turmeric or the anti-inflammatory property with-in Turmeric called Curcumin which is 500 times more bioavailable than the Turmeric. Then there is also the alkaline version of Turmeric which is called Yellow Dock. They're finding out there are massive, massive decrease in inflammation. They have taken football teams and put half the team on Turmeric for the season and the other half on placebo effects and the players on the Turmeric: there was an 80% decrease in concussions. This is significant numbers. And they are finding out that this stuff is not only preventing but reversing Alzheimer's and Dementia which is huge. These other countries where Turmeric is part of their diet India and all these other countries they don't have as many patients on all these Anxiety, Depression, Alzheimer's, Dementia medications. I believe every organ in the body is designed to heal itself if given the opportunity to and it does come down to diet and lifestyle. I personally grease up before every sparring round. I'm always putting Vaseline on my eyebrows, nose and forehead because most accidents happen with a clash of heads or elbows. I think even putting on the head gear makes the target a little bit bigger. Just like football, those guys are not getting cuts and abrasions, but they are getting their head rattled. Well with big ass head gear and big 16 oz gloves you're still hitting the head gear and making the head rattle. It's not so much the cut and abrasions that do the damage the rattling of the skull and the brain that does the damage. I tell my guy's Vaseline, grease up, even if you are just drilling, of course if your sparring, it's a lot more efficient than the headgear. You also have to slip the punches. It holds you accountable for slipping the punches a lot more. Because it's a big difference from going from wearing head gear all your camp and sparring with 16 oz. gloves and then going into an mma fight with no headgear and 4 oz. gloves. That's like practicing with a softball all season and then going to a baseball game and having to play with a baseball. It's a game of inches but fighting is a game of inches."
Robs' thought on tonight UFC 262 Oliveira vs Chandler Main and Co Main Fights: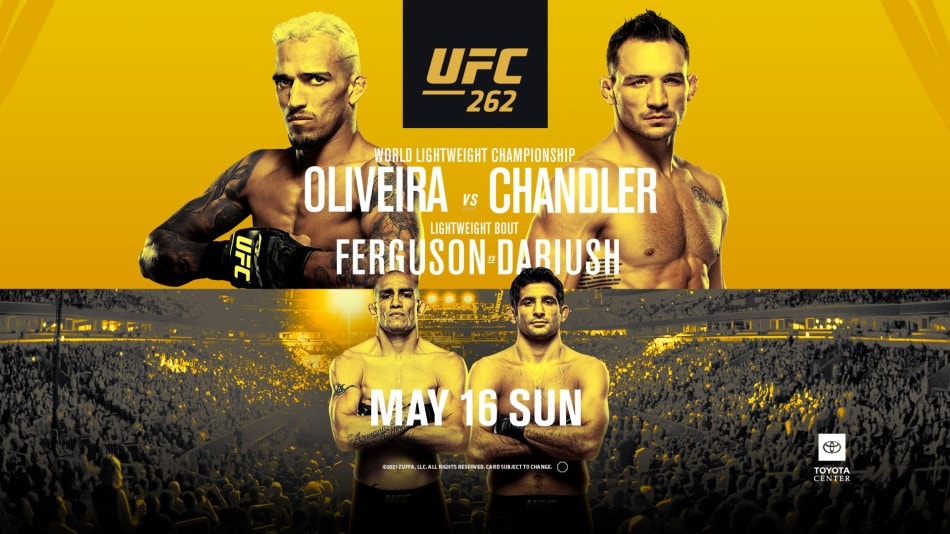 Charles Oliveira vs Michael Chandler Main
Tony Ferguson Beneil Dariush Co Main
"Beneil is a teammate of mine at Queens over there and I have gone a lot of rounds with him. Very brilliant, very intelligent, very humble athlete. I would like to see Beneil go for that title shot. It's very well deserved. He is probably one of the most humble guys I have met in this sport. Just a quiet humble hard worker and I think he has the skills to take out Tony. I think he has the fight IQ and the skills to beat Tony. I think Tony's head and mind can get a little rattled and I think Beneil can keep his calm and use that against him."
"The Chandler fight man it depends what Olivera shows up that night. We have seen him take guys out. We have seen him get dominated and crushed. But I think Chandler is on a good one right now. His mind is very strong. I think he has the anti jiu jitsu game to nullify Charles ground attack. Then the stand up, I think Chandler does a good job of moving his feet and staying out of that safety range. He displayed his skill that last fight when he took out Hooker. Fighting a tall rangy kickboxer, he did very well against him as far as implementing his game plan."
There is a lot more please take a listen.