This week's host is MMA referee Ryan Brueggeman in his first solo effort. The rest of the staff was either on vacation or celebrating anniversaries so nice work Ryan! Continue Reading by Clicking the Photo Above please……
The International Mixed Martial Arts Federation World Championships of Amateur MMA
The first topic at hand was the IMMAF World Championships taking place in Bahrain. Ryan mentioned there are 74 federations with goal of unifying rules and pushing into Olympic Games. 70 countries could produce amateur MMA fight teams if given the opportunity. And, of course, the winner of tournament could leverage their position to earn a pro contract.
Many of these efforts are funded by the UFC in an effort to develop amateurs. The best way to open the door for MMA in the Olympics is for people to contact their senators and congressmen as well as the USOC and the Sport Accord. The Sport Accord is the umbrella organization for all international sports federations.
Has Jon Jones removed himself from the GOAT conversation?

The guys discussed whether Jon Jones' repeated performance enhancing drug violations – coupled with his outside-the-cage drama – has permanently removed his name from the list of fighters thought to be the greatest of all time. The fact that performance enhancing drugs give an unfair advantage is undeniable.
Fighting a friend. Would you put it all on the line?
Ben Askren's name also came up. The welterweight champion will face Shinja Aoki in his retirement fight at One FC on November 24th in Singapore. Askren is retiring at 33 years of age because he says tired of chasing the #2 or #3 position and would have to fight his good friend Tyron Woodley in the UFC to earn the #1 spot. Askren and Dana White have a negative history so it's unlikely to happen. However it brought up the topic of fighting a friend to see who is really the best and the problems some fighters have with fighting guys in their camp.
Leading up to last weekend's UFC 215, Demetrious "Mighty Mouse" Johnson feels his title fight was getting lost in the shuffle due to too many events and Paige Van Zandt announces she will move up to the 125lb division because she's tired of passing out in the bath tub.
Andrea "KGB" Lee
Andrea "KGB" Lee, the current LFA Flyweight Champion (28, from Louisiana) called in to discuss her next fight. She'll be taking on Jamie Thorton on 9/22. She talked about how here interest in martial arts grew after high school and she got serious about training at 20 years old. Lee had competed in 40 amateur fights including Muay Thai, boxing, kickboxing and MMA before turning pro in 2013.
"KGB" advices an aspiring fighter do everything they can as an amateur to get as much experience as possible. She looks forward to her fight with Jamie Thorton (33, from California) who is 4-2 with four 1st rd stoppages. Lee states Thorton was the only one to accept fight and she will not let her guard down against the 82nd Airborne Army veteran.
Derrick Krantz
Current Legacy Fighting Alliance Welterweight Champion Derrick Krantz also called in to the show. He'll be taking on Fighting James Nakashima at LFA 23. Derrick mentioned how he got into a lot of fist fights in his youth and at 18 he was finally able to compete. Sporting 29 amateur fights (21-7-1), he brought a lot of experience into his professional career. A veteran of Bellator MMA, he declined a multi-fight deal with the promotion at the time but returned to fighting.
His opponent Nakashima trains out of The Lab and Krantz has trained there himself so he knows his opponent will be properly prepared. He knows Nakashima is a phenomenal wrestler as well as a south paw with good kicks and he hasn't seen any opponent break break him. Preparing for his 30th professional fight, Krantz is pleased with his LFA experience and the staff is easy to work with.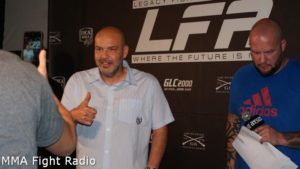 LFA promoter Ed Soares
Legacy Fighting Championships promoter Ed Soares was up next. He shared the news about the big headliner for the Phoenix, Arizona fight card on October13th. It will feature Mathew "The Thunder from Down Under" Frincu against Curtis Millender.
The remainder of Ryan and Ed's discussion was about the misconceptions of fight promotion, especially on the local level. Ed was great right out of the blocks stating "The misconception is that promoters are making tons of money and stuffing their pockets with cash. That's not the deal. If you put together a promotion, there's a lot of moving parts. If any one of those moving parts gets out of whack, that could (turn) your show (either) profitable or you could be losing money."
He continued "It could be a last-minute injury. If a guy is a big ticket seller…there are so many things that can happen in a promotion that until you're in the middle of it, you really don't realize it."
Ed also made his intentions to help fighters realize their dreams perfectly clear. He said "We give a platform for these guys to expose themselves and that's all we pretty-much do. We're building talent. I can tell you right now we're not the promotion that's paying you the most money but we're also not the promotion and that's tying you down and trying to affect your future."
He continued "We're kind of all phases of destiny in these guys careers. Yes, you may be getting paid less than you're making at another place but you're free to go when you're getting all this exposure and (opportunity) to move on with your career. Nothing makes us prouder than to see guys move up and take the next step in their career."
Ryan asked what do you look for in a fighter to go from a local promotion to Legacy and Ed's answer was very insightful. He said "In the LFA we're trying to discover… the next superstars. You have to (be able to) put on a show. That's one of the things I feel we do very well here. We actually prepare you and get you for that big show. And put (you in) the right type of fights and get you the experience to perform under the big lights in the big shows."
He continued "There's also the part that most people don't think about. Doing the interviews. Doing the media. Marketing yourself. Having the charisma. At the end of the day there are a ton of good fighters out there. As it stands right now, there are a ton more fighters than there are opportunities for guys to fight at. One thing that fighters need is more opportunity. So, the harder and more difficult these guys make it for the promoter…the less opportunities there are going to be for all the fighters."
Ryan thanked Ed for providing some great insight into what it takes. In closing, Ed mentioned the 9/22 LFA fights from Bloomfield, Colorado where a new middleweight champion will be crowned. As it turns out, Marcus Perez made short work of Ian Heinisch to win the title.
"Dallas" Hall
Next Shawn "Dallas" Hall called in to the show to discuss UFC 215 and Demetrious Johnson's opportunity to break Anderson Silva's record with a victory over Ray Borg. Ryan inquired if he wins and breaks the record, does he get the recognition he deserves and start getting the big paydays? Dallas' response was, in a word,no. He stated "I don't think he'll get that until he gets into his superfights. After he breaks the record he'll be forced to do superfights. I think if he wins one of those superfights, say the one with TJ Dillashaw and Cody Garbrandt." He sees the winner of that fight taking on the DJ/Borg winner.
Ryan called identified the problem. He said "It's just one of those things with Mighty Mouse. He doesn't have easy fights. He just makes them look easy. I think that's the problem. There hasn't been anybody who could really step up and challenge him. The last fighter that had that kind of hype was Henry Cejudo. And he made Cejudo look very academic."
Dallas agreed, acknowledging that Anderson Silva and GSP did the same to their divisions and stating: "When you see somebody do something great and makes it look easy, the casual fan thinks the guy he's fighting is no good."
They discussed the Amanda Nunes/ Valentina Shevchenko battle for Women's Bantamweight title and how Nunes feels she may be being punished for backing out of title fight by falling deeper on the main card. Of course, as it turned out, Ray Borg fell ill and this was the main event.
They also felt Henry Cejudo versus Wilson Reis was a main card-worthy fight but it gave Cejudo some real exposure as the FS1 prelim headliner. And even with a loss, will likely stay in the UFC stable as he has an international following.
They also mentioned that if Ben Henderson loses his next Bellator MMA fight with Patricky "Pit Bull" Freire, he may retire and go into the military.
Bobby Wombacher
Ryan's last guest was MMA referee and good friend Bobby Wombacher. Bobby shared what it takes to become a referee in the cage. He stressed not only finding out what the requirements were for each individual state but the importance of preparation. To get in the gym and you know what you're doing. He said "The athletes that go in that cage are highly skilled and they deserve the absolutely best officials. Not only referees but judges as well. If you don't know what you're doing in there, someone can get really hurt but more importantly you could cost somebody some money. Especially if they are a professional. "
He continued in his belief that refs should have some amateur fights. Ryan reinforced the point about knowing what's going on in the cage. He said "When we talk about getting into a gym and knowing what you're looking at. We're not just talking about being able to call out a hold or call out a move. We're also taking about knowing what joint or what bone is under pressure. Where the strain is. That way you can adequately protect a fighter during that time of need."
Bobby echoed those sentiments stating "You've got to know not only what you're looking at but how to apply it. You have to know where the pressure points are and where the pain is located…If somebody is in a hold where they tap out or verbally submit, you also need to know where to push and where to pull to relieve that pressure immediately. I mean a second could be the difference between a broken arm and not a broken arm. Consequently, a referee who doesn't know what he or she is doing can assist in breaking a bone when they shouldn't be. For the fighter's safety, you've got to know how to disassemble that hold safely."
They both felt that training never stops for an official and the second you say you've seen it all you need to leave the sport.
They changed topics to discussing the sacrifices of being a referee and the life of a road warrior. Bobby shared his story, telling listeners that the first year he drove 400,00 miles or what amounts to 200 days in a vehicle. He would pack a bag, show up at event and plead to get one fight to ref. Politics plays a role too. He said "People are very territorial. The old dogs do everything they can to keep a new ref down to protect their territory."
Bobby also said it was not about the money and financially it hurt. It even wound up costing him his marriage as he spent 42 weekends away out of state.
Ryan stated "If you have aspirations of getting to the top levels of officiating, it's not just as easy as getting licensed. You have to be willing to accept those sacrifices or your just not going to get there".
Bobby also mentioned his newly developed "FITE" app, stating "There's tons of content – MMA boxing, wrestling, BJJ, striking. If you're in combat sports, it has something for you. Not just local stuff either. Stuff from across the globe." He shared that they just partnered the app with UFC last week. There will also be a reality-based program on the app about being a referee and sharing behind-the-scenes information. It will also help individuals who may be interested in being a ref so they understand what goes on. The app can be downloaded from his website page.
He finished talking about his work with children with cancer and Autism. He does great work for kids and soldiers with PTSDs. Check him out and donate to worthy cause.
Until next time.
James Hirth