UFC 222 TAKES PLACE THIS SATURDAY LIVE ON PAY-PER-VIEW FROM THE T-MOBILE ARENA IN LAS VEGAS
Cris Cyborg (c) vs. Yana Kunitskaya
Cris Cyborg:
"I'm really happy about the opportunity to headline and to fight in the main event. There are a lot of girls who are going to fight on the card and I am really excited about that too. It was a really short camp but we have focused on watching her past fights and seeing what she can and can't do. But this is MMA, you must prepare for everything. Everybody can have a plan but, at the end of the day, you have to go inside the Octagon and fight."
"I think you have to respect anyone who steps into the cage whether it is her first fight or she's had a ton of fights. You should respect everyone. I have five rounds. I am going to do the best I can but if I can finish the fight sooner, I will."
Yana Kunitskaya:
"I am excited for this event; it has been getting crazier over time. I have been enjoying my fight week. I'm just confident. I've been doing this for a very long time I treat every fight just the same. I am excited that I get the chance to fight a fighter as respected as Cyborg."
"I like being the underdog. There is no pressure on me, this way. In a lot of my fights, I have been viewed as the underdog and I have finished all those fights very fast so I enjoy being the underdog.
Frankie Edgar vs. Brian Ortega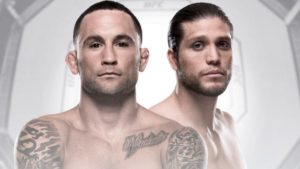 Frankie Edgar:
"I'm a little more 'old school'. Randy Couture, Georges St-Pierre; those are the guys I looked up to when I was new to the sport. Respectful guys who let their fighting do the talking and they were popular too! People wanted to see them fight. You can't say that you must be a loud mouth to be popular. Although, it does help at this day in age with social media."
Brian Ortega:
"It meant a lot to me to have my family here for this moment. My little brother is my biggest fan and I'm his biggest fan. I wish I was more like him when I was growing up and he wants to be more like me when he grows up. It's crazy. To share this light with my family is something that means a lot to me. To be up there with my little brother and let him feel what I'm able to feel. To show him the lifestyle that I have earned… To, kind-of, make him the champ. Forget about me, it's all about him."
Sean O'Malley vs. Andre Soukhamthath
Sean O'Malley:
"I had an awesome training camp and I feel like this is a good matchup for me. He is going to realize that I am a lot faster than him. I know he is going to try to shoot and get me up against the fence. If he takes me down, I have been working on my jiu-jitsu a lot. I am super confident about this fight."
Andre Soukhamthath:
"I'm totally a hundred percent focused and I'm ready for the fight. I've been taking the time to appreciate everything going on this week and I am enjoying it. I am having fun and I'm going to do the same thing on Saturday night."
Stefan Struve vs. Andrei Arlovksi
Stefan Struve:
"I feel great. I am very relaxed. My training camp went great. I am fighting an absolute icon in this sport on a UFC pay-per-view card. I'm just very happy and excited to be here."
Andrei Arlovski:
"I am going to bring a lot of pain and violence into the Octagon. I will do whatever is takes to finish Stefan Struve."
Cat Zingano vs. Ketlen Vieira
Cat Zingano:
"I have missed the feeling of being in the Octagon. But, it's been even more so since I arrived here in Vegas. A lot of things popped up throughout the week that I totally forgot about. Yes, it has been a bit of time but I didn't realize how much I've missed the nerves. I missed the excitement and the roller coaster of all of it. One minute, you are on top of the world and, next minute, you are like 'oh my god.' It makes you feel alive. It is extremely addicting."
Ketlen Vieira:
"I am very happy about the opportunity in front of me and I am ready to take another win."
Ashley Yoder vs. Mackenzie Dern
Ashley Yoder:
"I'm really excited about this weekend and this fight. I think it is my time to show the things that I have fixed in my game. I want to show what I am capable of in the Octagon."
Mackenzie Dern:
"If you see me outside of all of this, you will find out that I'm always smiling. Honestly, I am just trying to get the smiles out now because I know my personality will change as we get closer to weigh-ins and the fight."
Mike Pyle vs. Zak Ottow
Mike Pyle:
"One last time… and it has been great. This is the end of an awesome journey. I enjoyed the ride, my career and all the people I met along the way. I have made no enemies, only friends."
Zak Ottow:
"I know that it is Mike Pyle's last fight so that is pretty cool. I was a big fan of him coming up and, when I heard I got the fight with him, it made me excited. I know that he is going to try to put on a good fight for his last one and I want to wish him well in his retirement. However, I'm looking to win this one. I'm looking forward to the fight and looking forward to finishing him."
About UFC®
UFC® is a premium global sports brand and the largest Pay-Per-View event provider in the world. Acquired in 2016 by global sports, entertainment and fashion leader Endeavor (formerly WME | IMG), together with strategic partners Silver Lake Partners and KKR, UFC is headquartered in Las Vegas with a network of employees around the world. UFC produces more than 40 live events annually that consistently sell out some of the most prestigious arenas around the globe, while programming is broadcast in over 163 countries and territories to more than 1.1 billion TV households worldwide in 35 different languages. UFC FIGHT PASS®, a digital subscription service, delivers exclusive live events, thousands of fights on-demand and original content to fans around the world. For more information, visit UFC.com and follow UFC atFacebook.com/UFC, Twitter, Snapchat and Instagram: @UFC.