UFC FIGHT NIGHT®: POIRIER vs GAETHJE  OPEN WORKOUTS 
Wed April 11 Doors open at 4:30pm ends at 6:30pm
Gila River Arena – Arena Floor
Participants:
Dustin Poirier – No. 5 UFC lightweight
Justin Gaethje – No. 6 UFC lightweight
Carlos Condit – No. 12 UFC welterweight
Alex Oliveira – UFC welterweight
 Thurs April 12 listen to MMA Fight Radio to hear our UFC exclusive interview with main event fighter Justin Gaethje as well as full pre-fight coverage and we will gab with many others from the card.
MMA Fight Radio airs live Thurs Nights here in Phoenix 6-8 pm / Pacific Time 6-8 pm / Eastern Time 9-11 pm
To listen via Google Play App Click here
To listen via IPhone App Click here
UFC FIGHT NIGHT®: WEIGH-INS
Gila River Arena Fri April 13 
4pm – 5:30pm
Details:
4pm – 4:45pm:            Doors open to the public
5pm:                            UFC FIGHT NIGHT weigh-ins
UFC FIGHT NIGHT®: POIRIER vs GAETHJE Saturday, April 14
Details:
12:30pm:                         FIGHT PASS Prelims
3pm:                                Prelims live on FOX
5pm:                                UFC FIGHT NIGHT live on FOX
UFC Fight Night Glendale Poirier vs Gaethje Fight Card:
Dustin 'The Diamond' Poirier 22 – 5 – 0 vs  Justin 'The Highlight' Gaethje 18 – 1 – 0
Carlos 'The Natural Born Killer' Condit 30 – 11 – 0 vs Alex 'Cowboy' Oliveira 17 – 5 – 1
Israel 'The Last Stylebender' Adesanya 12 – 0 – 0 vs Marvin 'The Italian Dream' Vettori 12 – 3 – 1
Michelle 'The Karate Hottie' Waterson 14 – 6 – 0 vs Cortney 'Cast Iron' Casey-Sanchez 7 – 5 – 0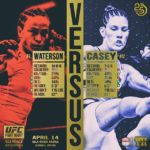 Antonio 'Cara de Sapato' Carlos Jr. 9 – 2 – 0 vs Tim 'The Barbarian' Boetsch 21 – 11 – 0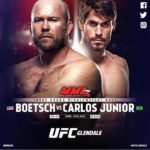 Wilson Reis 22 – 8 – 0 vs  John 'Chicano' Moraga 18 – 6 – 0
Brad Tavares 16 – 4 – 0 vs Krzysztof JotkoK 19 – 3 – 0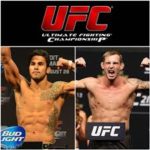 Gilbert 'Durinho' Burns 12 – 2 – 0 vs Dan 'The Hitman' Moret 13 – 3 – 0
Shana 'Danger' Dobson 3 – 1 – 0 vs Lauren 'Princess Tiger' Mueller 4 – 0 – 0
Yushin 'Thunder' Okami 34 – 11 – 0 vs Dhiego Lima 12 – 6 – 0
Arjan Bhullar 7 – 0 – 0 vs  Adam 'Siwy' Wieczorek 9 – 1 – 0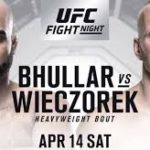 Luke 'Cool Hand' Sanders 11 – 2 – 0 vs Patrick 'The Animal' Williams 8 – 5 – 0
Matthew Lopez 10 – 2 – 0 vs Alejandro 'Turbo' Perez 19 – 6 – 1
Ricky 'The Sniper' Rainey 13 – 4 – 0 vs Muslim 'King of Kung Fu' Salikho 13 – 2 – 0