Article written by Shawn-Dallas Hall Licensed MMA Judge & Analyst for MMA Fight Radio
On Sunday February the 17th the UFC will land in the valley of the sun Phoenix, AZ to embark on it's new journey and begin it's 5 year $1.5 Billion dollar partnership with ESPN. This will be the first fight card to air on ESPN and the card is 100% worthy of this honor. The UFC has provided ESPN with one of the most competitive top to bottom better cards to ever air on live free television. From the title eliminator main event all the way to the prelim fights where former champions take on up and coming talent should provide MMA hardcores and casuals with some very action packed and divisionally important fights. In this preview I will break down the Headliner, Co-Headliner, and some fights that should be both entertaining and important to the future of the UFC hierarchy.
In the Headliner, Cain Velasquez (14-2, former 2X Heavyweight Champion) comes off a long 2 year plus hiatus from competition to face former title contender and KO artist, Francis Ngannou (12-3, with 8KO's). This fight has not only major title implications but also personal achievements at stake as both men look to re-invent themselves as the number 1 contender for the Heavyweight crown. So, let's look at this fight a little more in depth.
Cain Velasquez (14-2), who is held in as high of regard as to be considered arguably the greatest UFC heavyweight of all time. A Division I wrestling standout for Arizona State, Cain has had an outstanding career so far besting the likes of; Junior Dos Santos, Brock Lesnar, Travis Browne, Big Nog, and Antonio Silva. But, as good as his resume is Cain has had a dark cloud over his career as he has been chronically unable to compete due to multiple injuries that have held him out of several fights and has cost him multiple consecutive years away from competition. One thing I've learned over the years of covering this sport fans are fickle and they only care about what you have done lately. That's why for Cain this fight means everything. Not only is this a fight to cement a legacy as greatest of all time but it also gives him a chance to re-introduces the fans to his greatness. As great as Cain has been throughout his career there are still some questions this fight will soon answer. Currently coming off a 2 plus year lay-off can Cain still provide the relentless pace, dominate grappling attack, and barrage of strikes and GNP that earned him GOAT status in the past? Can he withstand or avoid the insanely powerful shots that Francis has used to demolish the elite of the Heavyweight division? Only Time will tell.
Francis Ngannaou (12-3), had a meteoric rise in his short UFC career.
Primarily know for his unbelievable power seen in his KO victories over Alistair Overeem, Andre Arlovski, and Curtis Blaydes. With an extremely fan friendly fighting style and unique personal story the UFC pushed Francis to the forefront of the division and put him in a title fight with then dominate champ Stipe Miocic. A match that showed the underdevelopment of certain areas of Francis's all around MMA game. After the heartbreaking loss Francis went back to the drawing board and has been working relentlessly on filling gaps exposed by Stipe's gameplan. Since then Francis had a lackluster performance losing a decision to Derrick Lewis which was dubbed by many insiders as one of the worst fights in UFC heavyweight history. But, if you research Francis' life story you'll know giving up is not in his DNA. He took a quick turn around fight against then number 1 contender Curtis Blaydes (10-2) and starched him in highlight reel fashion in just 45 seconds. Thus catapulting him back into the mix and earning him a blockbuster opportunity against a former 2 time champion. With the power to put any man away with just one shot can Francis capitalize on this opportunity to be thrust right back into title contention? Or will we see the Cain of old who will provide constant pressure on Francis making him in for a long night of defending takedowns and relentless GNP? It's the old tale of Power and heavy striking versus restless grappling attacks. Book Makers have the fight at Velaquez (-165) and Ngannou (+145).
CO-MAIN EVENT
Paul Felder (15-4) vs James Vick (13-2) Lightweight Bout 3 X 5min rounds
In Sunday's Co-main event two lightweight stand outs Paul "The Irish Dragon" Felder who returns to lightweight after a 3 rd decision at 170lbs with Mike "Platinum" Perry. Felder fell short on the decision, after suffering a broken arm during the contest, and is now looking to rebound back at his natural weight class. Felder, a high level violent Roufusport striker with excellent top game will be giving up 5 inches in height and 5.5 inches in reach to the tallest competitor in the division at 6'4". Felder currently ranked outside the top 15 in the division will look to jump into the top 15 by getting a win over #10 James Vick. A task much easier said than done!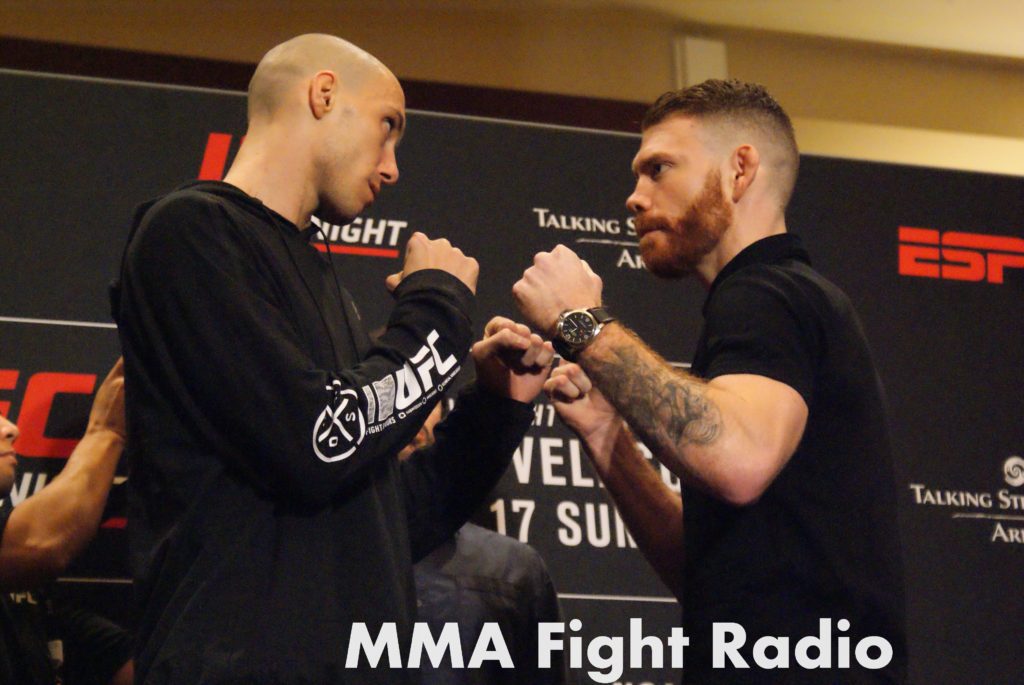 James Vick a long rangy striker has had a ton of success lately after racking up 4 wins in his last 5. Vick also coming off a KO loss against lightweight stand out and Arizona native Justin Gaethje, last August at UFC Fight Night Lincoln, Nebraska, is also looking to rebound and put himself back into the mix of possible title contenders with a win over the durable, battle tested, fan favorite Felder. Odds makers have Vick as the (-120) favorite over the (+100) Felder. And like the odds suggest this looks to be a closely contested bout where one mistake from either competitor could mean the difference between starting their climb back to contender status or heading to the back of the queue in the UFC's most talent stacked division.
FIGHTS TO WATCH
Though as stated earlier this card is full of great fight possibilities in my opinion there are a few stand-out fights to watch that have either; fight of the night possibilities, heavy divisional impact, or just plain fun to watch.
5 Jimmy Rivera (22-2) vs #7 Aljamain Sterling (16-3)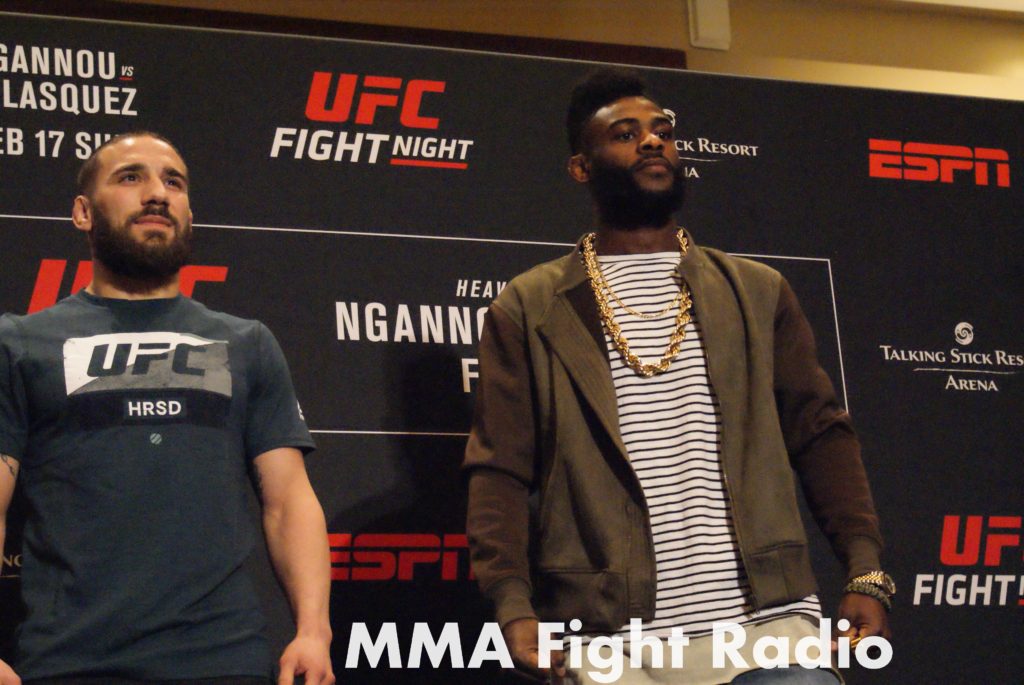 This fight has major divisional impact as Rivera whom was on the short list for title contenders when he entered into a contest with Marlon Moraes. Rivera came up short that night but rebounded quickly with a Decision win over John Dodson. A win Sunday over The Funkmaster would put Rivera back on track to be on the shortlist for a #1 contender fight in the near future. Sterling much like Rivera needs this win if he is ever to fulfill his goal of becoming Bantamweight Champion of the world. Sterling has been good of late with 2 straight wins and a win over Rivera would force the UFC decision makers to add Aljamain to the shortlist of contenders. The oddsmakers have it at Rivera (-145) over Sterling at (+125). This fight is as close and meaningful as it gets. Both men are explosive and always looking for the finish. Personally I don't see this fight making the 15min mark.
11 Cortney Casey (8-6) vs #12 Cynthia Calvillo (7-1)
Local Strawweight Cortney Casey looks to get back on track Sunday by stopping the momentum of divisional up and comer and submission specialist Calvillo. Casey who's record is very deceiving has fought the who's who in the UFC straw weight division. Losing many of her fights narrowly by decisions Casey has the skills and toughness to be a real contender if she can just string together a few wins and have the fight IQ to find ways to win the tight decisions she's been plagued with throughout her career. But in order to start her streak she'll have a tough test in Calvillo. Calvillo a skilled grappler with 3 submission finishes in her 5 UFC fights will look to come out quick and early and try to force this fight to the ground where she feels she has the advantage. A win for Cavillo puts her one step closer to being in the top 10 and start her run at the title. This should be a high pace fight with the local Casey having the crowd behind her while Calvillo looks to hush the crowd and put herself in the forefront of the contenders in the Straweight division.
You can view all of the photos from MMA Fight Radios coverage of the Open workouts and Media day here : https://www.facebook.com/pg/MMAFightRadio/photos/?tab=album&album_id=2111307422285206
https://www.facebook.com/pg/MMAFightRadio/photos/?tab=album&album_id=2111290815620200
Just a few of the photos are below for all photos use above links
Sunday, February 17
UFC® FIGHT NIGHT on ESPN: NGANNOU vs. VELASQUEZ
Pre Fight Card and Main card will air on ESPN
Talking Stick Resort Arena Purchase tickets here: http://www.talkingstickresortarena.com/events/detail/ufc-1
2:30 – 10pm
More info: https://www.ufc.com/
Update Jessica Penne, Renan Barao and Manny Bermudez all missed weight
Main Card ESPN
Cain Velasquez vs. Francis Ngannou
James Vick vs. Paul Felder
Cortney Casey vs. Cynthia Calvillo
Alex Caceres vs. Kron Gracie
Vicente Luque vs. Bryan Barberena
Andre Fili vs. Myles Jury
Preliminary Card ESPN
Aljamain Sterling vs. Jimmie Rivera
Benito Lopez vs. Manny Bermudez
Andrea Lee vs. Ashlee Evans-Smith
Scott Holtzman vs. Nik Lentz
Early Prelims ESPN+
Renan Barao vs. Luke Sanders
Jessica Penne vs. Jodie Esquibel
Aleksandra Albu vs. Emily Whitmire
IF

IF

IF

IF

IF

IF

IF

IF

IF

IF

IF

IF

IF

IF

IF

IF

IF

IF

IF
Weigh in Results: