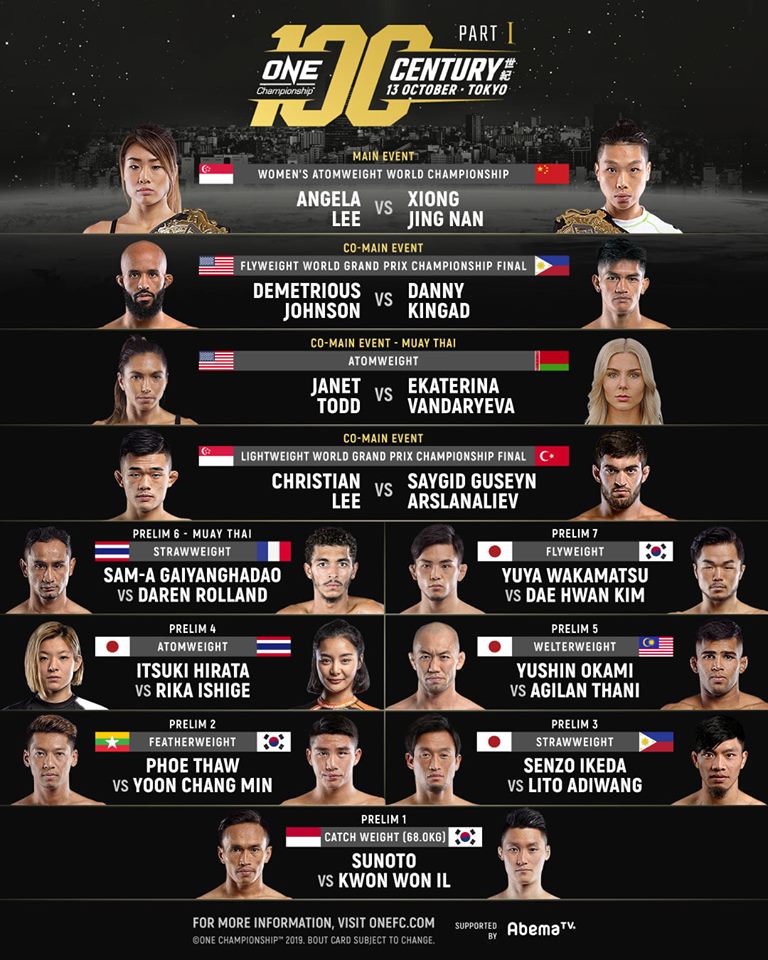 Tokyo, Japan: The largest global sports media property in Asian history, ONE Championship™ (ONE), has just released the official ONE: CENTURY 世紀 Final Weight and Hydration Results. All athletes set to compete in both Part I and Part II of ONE: CENTURY 世紀 have successfully made weight and passed hydration tests.Complete ONE: CENTURY 世紀 PART I Final Weight and Hydration Results
MAIN CARD
ONE Women's Atomweight World Championship (47.7 KG – 52.2 KG): 
Angela Lee (52.15 kg, 1.0070) vs. Xiong Jing Nan (52.20 kg, 1.0018)
ONE Flyweight World Grand Prix Championship Final (56.8 KG – 61.2 KG):
Demetrious Johnson (61.00 kg, 1.0168) vs. Danny Kingad – (61.20 kg, 1.0053)
Muay Thai Women's Atomweight (47.7 KG – 52.2 KG): 
Janet Todd (51.75 kg, 1.0057) vs. Ekaterina Vandaryeva (52.20 kg, 1.0091) 
ONE Lightweight World Grand Prix Championship Final (70.4 KG – 77.1 KG): 
Christian Lee (76.70 kg, 1.0018) vs. Saygid Guseyn Arslanaliev (76.60 kg, 1.0132)
PRELIMINARY CARD
Mixed Martial Arts Flyweight (56.8 KG – 61.2 KG): 
Yuya Wakamatsu (61.20 kg, 1.0070) vs. Dae Hwan Kim (61.10 kg, 1.0120)
Muay Thai Strawweight (52.3 KG – 56.7 KG):
Sam-A Gaiyanghadao (56.55 kg, 1.0207) vs. Daren Rolland (55.80 kg, 1.0078)
Mixed Martial Arts Welterweight (77.2 KG – 83.9 KG): 
Yushin Okami (83.80 kg, 1.0014) vs. Agilan Thani (83.35 kg, 1.0005)
Mixed Martial Arts Women's Atomweight (47.7 KG – 52.2 KG): 
Itsuki Hirata (52.20 kg, 1.0074) vs. Rika Ishige (52.20 kg, 1.0132)
Mixed Martial Arts Strawweight (52.3 KG – 56.7 KG): 
Senzo Ikeda (56.40 kg, 1.0066) vs. Lito Adiwang (56.60 kg, 1.0222)
Mixed Martial Arts Featherweight (65.9 KG – 70.3 KG):
Phoe Thaw (68.80 kg, 1.0195) vs. Yoon Chang Min (70.30 kg, 1.0222)
Mixed Martial Arts Catchweight (68.0 kg):
Sunoto (67.15 kg, 1.0005) vs. Kwon Won Il (67.60 kg, 1.0031)
Complete ONE: CENTURY 世紀 PART 2 Final Weight and Hydration Results
MAIN CARD
ONE Light Heavyweight World Championship (93.1 KG – 102.1 KG): 
Aung La N Sang (99.45 kg, 1.0018) vs. Brandon Vera (101.80 kg, 1.0210)
Mixed Martial Arts Lightweight (70.4 KG – 77.1 KG):
Shinya Aoki (76.30 kg, 1.0023) vs. Honorio Banario (76.90 kg, 1.0040)
ONE Bantamweight World Championship (61.3 KG – 65.8 KG): 
Bibiano Fernandes (65.75 kg, 1.0095) vs. Kevin Belingon (65.40 kg, 1.0070) 
ONE Flyweight Muay Thai World Championship (56.8 KG – 61.2 KG): 
Rodtang Jitmuangnon (60.95 kg, 1.0191) vs. Walter Goncalves (59.80 kg, 1.0229)
ONE Featherweight Kickboxing World Grand Prix Championship Final (65.9 KG – 70.3 KG): 
Giorgio Petrosyan (69.85 kg, 1.0074) vs. Samy Sana (69.70 kg, 1.0066)
Mixed Martial Arts Heavyweight (102.2 KG – 120.2 KG): 
Mauro Cerilli (115.10 kg, 1.0018) vs. Arjan Bhullar (111.70 kg, 1.0018)
PRELIMINARY CARD
Mixed Martial Arts Women's Atomweight (47.7 KG – 52.2 KG): 
Mei Yamaguchi (52.10 kg, 1.0023) vs. Jenny Huang (51.45 kg, 1.0083)
Mixed Martial Arts Strawweight (52.3 KG – 56.7 KG):
Yosuke Saruta (56.55 kg, 1.0140) vs. Daichi Kitakata (56.65 kg, 1.0183)
Mixed Martial Arts Bantamweight (61.3 KG – 65.8 KG): 
Shoko Sato (65.30 kg, 1.0095) vs. Rafael Silva (65.30 kg, 1.0207)
Mixed Martial Arts Welterweight (77.2 KG – 83.9 KG): 
Hernani Perpetuo (83.40 kg, 1.0168) vs. Hiroyuki Tetsuka (83.05 kg, 1.0124)
Mixed Martial Arts Lightweight (70.4 KG – 77.1 KG): 
Koshi Matsumoto (76.65 kg, 1.0023) vs. Takasuke Kume (77.05 kg, 1.0132)*Hydration values less than or equal to 1.0250 earn a passing mark, while values greater than or equal to 1.0251 earn a failing mark. Athletes who failed weight and hydration tests on Day 1 or Day 2 are given another chance to clear tests on the morning of the event.

For more updates on ONE Championship, please visit www.onefc.com, follow us on Twitter and Instagram @ONEChampionship, and like us on Facebook at https://www.facebook.com/ONEChampionship.
About ONE Championship™
ONE Championship (ONE) is the largest global sports media property in Asian history, and the largest producer of millennial live sports content in Asia. Headquartered in Singapore, ONE is the Home of Martial Arts, and is the world's largest martial arts organization, hosting bouts across all styles of martial arts such as Muay Thai, Kickboxing, Karate, Kung Fu, Silat, Sanda, Lethwei, Mixed Martial Arts, Tae Kwon Do, Submission Grappling, and more. ONE hosts the biggest sports entertainment events across Asia, featuring some of the world's best martial artists and world champions on the largest global media broadcast in Asia. ONE Esports, a subsidiary of ONE Championship, runs Asia's largest global esports Championship Series with some of the biggest blockbuster game titles in the world. In addition to its digital platforms, ONE Championship broadcasts to over 2.6 billion potential viewers across 140+ countries with some of the largest global broadcasters, including Fox Sports, ABS-CBN, Astro, ClaroSports, Startimes, Thairath TV, Skynet, Mediacorp, Great Sports, Tencent, Star TV, Mediaset Italia, ProSiebenSat.1, Dubai Sports, Turner Sports, and more.