BELLATOR 256: Bader vs. Machida 2 is officially in the books.
The BELLATOR MMA Light Heavyweight World Grand Prix rolls on as Bellator MMA returns next Friday, April 16 on SHOWTIME, when Vadim Nemkov defends his light heavyweight world title against former champion Phil Davis and Corey Anderson welcomes Dovletdzhan Yagshimuradov to the BELLATOR Cage in the event's co-headliner. The opening round culminates on SHOWTIME on May 7 when Anthony "Rumble" Johnson and Yoel Romero square off at BELLATOR MMA 258, a massive event headlined by a bantamweight world title fight featuring Juan Archuleta vs. Sergio Pettis.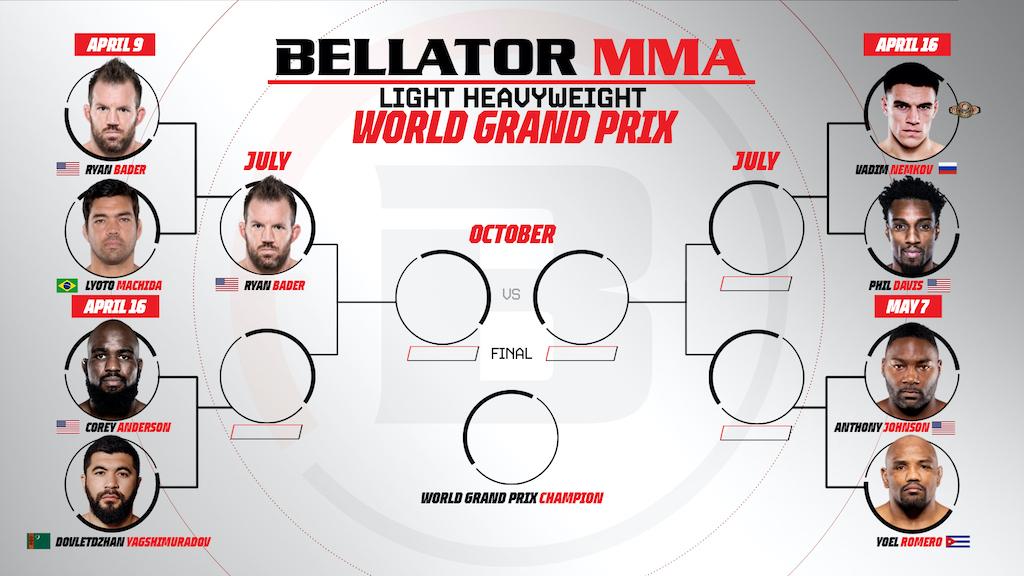 BELLATOR MMA 256: Bader vs. Machida 2 Main Card:
#1-Ryan Bader (28-6, 1 NC) defeated #4-Lyoto Machida (26-11) via unanimous decision (49-46, 49-45, 49-45)
Bader "I don't know who I'd rather face next. I don't know much about [Dovletdzhan Yagshimuradov] but I know Corey [Anderson] really well. I brought him in for training camps for Phil Davis. He's a good guy so I'm rooting for him. But if I have to fight him, I know he's tough. I'm in this tournament and I ran through another tournament before. I had fun so that's why I came down here. It doesn't matter who's in my way. I want that belt back and this was the first step right here.
"There's redemption this whole tournament. I got one back on Machida but I've lost to Nemkov and I've lost to Anthony Johnson, so I would like to meet one of them in the finals. But honestly, to make it to the finals and fight for the belt, I'd be happy with whoever it is."
#2-Liz Carmouche (15-7) defeated Vanessa Porto (22-8) via unanimous decision (29-28, 30-27, 30-27)
Carmouche: "As soon as they say I'm clear and I'm good, I'm ready to get right back into fighting camp and go for the belt. If I don't get a title shot, I'd be disappointed of course. I came in here with the hopes that I would work up the ranks to fight for the title. I just need to know what I need to do. You tell me who I need to beat to get that fight and I'll do it. I certainly hope that taking somebody who has more fights than I do and beating her tonight would put me in contention for that belt."
#3-Adam Borics (17-1) defeated #8-Jeremy Kennedy (16-3, 1 NC) via unanimous decision (30-27, 29-28, 29-28)
Borics: "I don't care who my next opponent is, but just give me the winner of the [Featherweight World Grand Prix] tournament. I'm definitely next in line. My goal is to get the winner but let's see what BELLATOR wants. I am really happy I got this opportunity to fight during these crazy times. I feel that I am ready for a title. I have eight or nine fights with BELLATOR so yes, I would like to fight for the title next."
#3-Cat Zingano (12-4) defeated Olivia Parker (4-2) via submission (armbar) at 2:56 of round one
Zingano: "I want to go against the best. I know who's the best. I know these two girls [Cris Cyborg and Leslie Smith] have a fight coming up in a couple months and I'd love to get a shot at the belt over here in BELLATOR. That would mean a lot to me."
Dan Moret (15-6) defeated #3-Goiti Yamauchi (25-5) via split decision (29-28, 28-29, 29-28)
Rising welterweight star Jaron "Boots" Ennis was interviewed on the telecast ahead of his SHOWTIME CHAMPIONSHIP BOXING main event debut tomorrow night against former 140-pound world champion Sergey Lipinets.
"You're going to see a lot of speed, power, and me having fun. It's about making statements and getting knockouts at the end of the night," said the 23-year-old Ennis, who will be taking on the toughest challenge of his career in Lipinets as he pursues a world title shot. "It's going to be a great opportunity for me to headline my first SHOWTIME CHAMPIONSHIP BOXING and it's the start of me being a pay-per-view star. It's only up after this. It's time for me to do my thing tomorrow night."
Preliminary Card:
Dalton Rosta (5-0) defeated Tony Johnson (9-3) via unanimous decision (30-27, 30-27, 30-27)
Talita Nogueira (8-2) defeated Jessica Borga (3-3) via unanimous decision (29-27, 29-27, 29-27)
#10-Jornel Lugo (6-0) defeated #8-Cass Bell (5-2) via unanimous decision (30-26, 30-27, 30-27)
Cody Law (3-0) defeated Nathan Ghareeb (2-1) via unanimous decision (30-27, 30-27, 30-27)
Jaylon Bates (2-0) defeated Jeffrey Glossner (2-2) via submission (guillotine) at 1:27 of round two
Nainoa Dung (4-2) defeated Izzy William (4-4) via unanimous decision (30-27, 29-28, 29-28)
Diana Avsaragova (3-0) defeated Tara Graff (1-3) via knockout (punches) at :29 of round one
John Douma (5-2) defeated Will Smith (3-3) via split decision (29-28, 28-29, 29-28)
Please visit Bellator.com for additional information.