Guests Andres Quintana, Kamuela Kirk and James Hergott
MMA Fight Radio airs live Thurs Nights here in Phoenix 6-8 pm / Pacific Time 6-8 pm / Eastern Time 9-11 pm
To listen via your phone Listen LIVE
MMA FIGHT RADIO Arizona's original expert source for MMA, with our host  "Big Jaybowski" Jay Pagliaro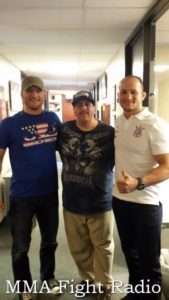 along with co-host  Shawn "Dallas" Hall an MMA Judge and Rob Michael Emerson
Produced by Penny Buffington and Sponsored by the Nationwide Warranties.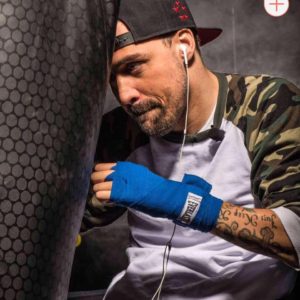 Joshua Boyd – Las Vegas Correspondent
Paal Eide – East Coast Correspondent w/  Yadlynd Eide as photographer
James Hirth  Midwest Correspondent
Field Correspondents Carlos Ortiz and Pete Petruzi "Pete the Heat"
MMA Fight Radio Main Photographers include Eddie Buffington, Penny Buffington
News, Reviews and Interviews with today's hottest national and local fighters, including expert analysis of all things MMA: including the UFC, Bellator MMA, LFA – Legacey Fighting Alliance , Invicta Fighting Championship and more.
MMA AT IT'S FINEST
Men age 35+ demographic; MMA Fight Radio is reaching on average 13,000-15,000 per show
Persons age 25-54; MMA Fight Radio is reaching over 100,000 persons per show
MMA Fight Radio reaches 128,000 monthly cumulative audience.
NBC Sports Radio Phoenix 1060 AM is one of the top sports stations in the Valley with a reach of 4 million
Kamuela Kirk coming in studio –  coming off his win LFA 53 –  KENNEY vs Royval over Kevin Croom Nov 9 2018 Phoenix AZ
James Hergott is casting for  Radical Body Transformation and anyone in North America can apply.
"I have 30 slots available and $250k US in prizes.  So if you know anyone who wants to get in shape, add muscle, lose weight, be healthier .. etc.. and has a good story feel free to refer them to me.. They can email me at jameshergott@gmail.com   Here is all the info including prizes."
ABOUT RADICAL BODY TRANSFORMATION (RBT)
Bodybuilder and filmmaker James Hergott meets people from all walks of life yearning to transform their bodies as they embark on their journey towards inner and outer growth and development in this inspiring documentary series, starring James Hergott and various special guests including the legendary Arnold Schwarzenegger.
RBT DISTRIBUTION
RBT premieres on NPC News (npcnewsonline.com) which is the largest amateur bodybuilding platform and then is distributed on Amazon Prime U.S. & U.K. and various other distribution windows to be announced (28 episodes have been released so far on NPC and Amazon Prime).  Distribution partners include MY Spotlight Independent and Stacks Films (distributor for Amazon US & UK)  Amazon link:  https://amzn.to/2ASGlvP
RBT THIRD SEASON 250K+ US IN PRIZES
For season three as part of our new Amazon Prime deal, we are doing something special.  We have a 1st, 2nd and 3rd place grand prize totalling $250k+ US in total cash and prizes.  First place viewer's choice is voted by viewers as best transformation.  This is $150k US Cash plus Expedia CruiseShipCentre all inclusive cruise for two plus professional photoshoot with Celebrity Portrait Photographer Carmine Groe.  2nd place is second best viewer's choice as voted by viewers as best transformation.  This is $50k US Cash plus Porsche Macan SUV plus professional photoshoot with Celebrity Portrait Photographer Carmine Groe.  Third place is director's choice and is based on most drastic transformation and must be a different person than 1st and 2nd place.  This prize is $25k US Cash plus professional photoshoot with Celebrity Portrait Photographer Carmine Groe.
THIRD SEASON COACHES
This year we brought in Josh and Kyle from Colossus Fitness.  Two trainers whose mission statement is "To inspire, motivate and educate the fitness community in better living and health practices".  They have built up a huge following of already 69,000 YouTube subscribers and 53,000 Instagram followers.  Combined they have the well rounded backgrounds necessary to help people achieve all kinds of goals!   Here is an intro video of them and the show:  https://www.youtube.com/watch?v=dLoxQtMPDJo
ABOUT HERGOTT
James Hergott's (jameshergott.com) first feature film, "All That I Need", debuted at the Cannes International Film Festival in 2005 and secured a limited theatrical release with Regal Entertainment Group. It gained critical acclaim. Larry Ratliff of the San Antonio Express News called it a "compelling, emotional roller-coaster ride of riches and ruin" and praised Hergott as "showcasing gumption and creative sleight of hand sure to take him further as a director and writer" and a "filmmaker to watch."
From 2005 to 2007, Hergott served as president of publicly traded Beverly Hills entertainment production and distribution company, Imperia Entertainment, which under his supervision produced a number of multi-million dollar film and TV entities including the $5 million+ budgeted "Say It In Russian" staring Academy Award winner Faye Dunaway. In 2009, Hergott wrote, directed and produced ten episodes of the MMA reality show "MMA Worldwide," which was distributed nationally on Mark Cuban's HDNET (now AXS TV). Later that year he traveled to Iraq and filmed a documentary about the first ever MMA Fight in Iraq titled "A Fight For The Troops", for which he received a Greywolf Medal by the US Army. In 2010 he wrote and executive produced the UFC Champion, Georges St-Pierre, documentary, "The Striking Truth," which was distributed worldwide. In 2013 he signed a co-production deal with The Vladar Company (Generation Iron) for an MMA related crime drama written and to be co-directed by himself and produced by Vlad Yudin and Edwin Mejia. That same year he became Business Director and Creative Consultant for "Generation Iron" starring Arnold Schwarzenegger and narrated by Mickey Rourke. "Generation Iron" has become the #1 Sports/Fitness Film in the world. In 2014 he was on CBC's Dragon's Den where he did a deal with Canadian business tycoon Jim Treliving. In 2015 he produced and directed a multi episode fitness reality show, "Radical Body Transformation", which is now in its third season and released via the NPC which is the number one amateur bodybuilding association as well as Amazon Prime. In 2016/17 he Associate Produced the 7 part bodybuilding & fitness series SWOLE for VICE media, the multi-billion dollar media conglomerate with partners worldwide. He's appeared on everything from Fox News to Costco Magazine.
As a hobby Mr. Hergott is a national level bodybuilder and has placed at a number of events. He competes for IFBB feeder organization the Canadian Physique Alliance (CPA). He placed second in his class at the Winston Invitational, just over a month after an ulcer burst (resulting in a near death experience which required emergency surgery). Mr. Hergott competed at the Cobourg Naturals April 20th, 2013. In 2015 he competed in the IFBB World Qualifiers.
In 2017 he interviewed Professor Dr. Jordan B. Peterson in one of the highest praised interviews on YouTube: "This is by far the best interview or discussion I've seen. This is the way you interview a smart clinical psychologist. He's a listener and a conversationalist. James has obviously integrated the Doctor's material. His questions and comments show it.".
Andres Quintana   Representing the USA Combate-Americas-Copa-Combate Fri Dec 7 Fresno Ca  ABOUT COMBATE AMERICAS
Combate Americas is the premier Hispanic Mixed Martial Arts (MMA) sports franchise, rapidly becoming the number two sport after soccer, for Spanish speaking fans worldwide. The Combate Americas franchise includes live event and original shoulder programming on some of the biggest television, OTT and digital platforms in Spanish and English, including Univision and Univision Deportes Network (UDN), DAZN, ESPN, GOL and Facebook Watch worldwide. The company also owns and operates a multi-platform media studio, La Jaula Studios.
Combate Americas CEO Campbell McLaren, also the co-founder/co-creator of the Ultimate Fighting Championship (UFC), has been described by New York Magazine as "the marketing genius behind the UFC," while Yahoo Sports has said he "knows more about the sport than just about anyone in it today." With an unprecedented and cutting edge product and a blue-chip ownership and management team, Combate Americas is poised to break new ground and bring about a new era in world championship level MMA competition.