According to TMZ yesterday: Two women in Ireland are suing Conor McGregor stemming from alleged incidents in 2018. But the UFC superstar is ADAMANT he did nothing wrong. Continue reading
The incidents mentioned are very vague, citing legal reasons for not being revealed yet.
Through his Facebook Page in Sept of 2020 Conor addressed the public, "Try set me up all yous f*cking want over and over and over the truth will always set me free! Be it baby father claims, rape, indecent exposure, bullsh*t WhatsApp group sh*t. You f*cking name it. Never will I fold! The truth is the truth and it gives me wings. I know my character! God bless DNA! God bless Cctv! God bless Eye witness! God bless the truth! The truth is power! I am free! Never will a dime be paid to anyone coming at me with vicious lies! Not now not f*cking ever! I will fight! And I am only beginning my fight! "All these past incidents you will see! They will not be forgotten! I will not allow these people to just accuse me and then disappear into the dark to attempt to ruin someone else life! No f*cking way! I will never kill myself no matter how many wish for it."
The "God bless DNA" refers to being found to NOT be the baby daddy.
Not sure how this lawsuit will turn out. Everyone has their own opinions. Where one would say, I bet he did something awful and should pay. Another would bet, crazies always going after public figures, he did nothing wrong. We just don't know yet. Just like we don't know yet how the main event Poirier vs McGregor 2 bought is going to end. But WE CAN, Bet on IT! See the updated odds for Dustin Poirier vs. Conor McGregor 2. Where McGregor is becoming a massive favorite, as much as -300 on some sportsbooks.
SAT, JAN 23 / 8:00 PM MST PURCHASE ON ESPN+
UFC 257: Poirier vs McGregor 2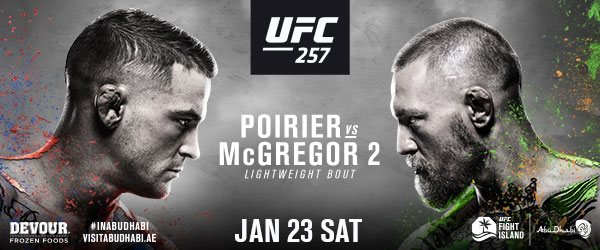 Main card on ESPN+ PPV
#2 DUSTIN POIRIER LIGHTWEIGHT BOUT VS #15 CONOR MCGREGOR
#6 DAN HOOKER LIGHTWEIGHT BOUT VS MICHAEL CHANDLER
#6 JESSICA EYE WOMEN'S FLYWEIGHT BOUT VS #7 JOANNE CALDERWOOD
MATT FREVOLA LIGHTWEIGHT BOUT VS OTTMAN AZAITAR
#8 MARINA RODRIGUEZ WOMEN'S STRAWWEIGHT BOUT VS #9 AMANDA RIBAS
Prelims on ESPN + and ESPN
SAT, JAN 23 / 6:00 PM MST ESPN & ESPN+
ARMANT SARUKYAN LIGHTWEIGHT BOUT VS NASRAT HAQPARAST
#14 BRAD TAVARES MIDDLEWEIGHT BOUT VS ANTONIO CARLOS JUNIOR
#7 JULIANNA PEÑA WOMEN'S BANTAMWEIGHT BOUT VS #9 SARA MCMANN
KHALIL ROUNTREE JR. LIGHT HEAVYWEIGHT BOUT VS MARCIN PRACHNIO
Early Prelims on UFC Fight Pass
SAT, JAN 23 / 4:15 PM MST WATCH ON FIGHT PASS
ANDREW SANCHEZ MIDDLEWEIGHT BOUT VS MAKHMUD MURADOV
NIK LENTZ CATCHWEIGHT BOUT VS MOVSAR EVLOEV
AMIR ALBAZI FLYWEIGHT BOUT VS ZHALGAS ZHUMAGULOV
ABU DHABI, UNITED ARAB EMIRATES – JANUARY 21: Michael Chandler interacts with media during the UFC 257 press conference event inside Etihad Arena on UFC Fight Island on January 21, 2021 in Yas Island, Abu Dhabi, United Arab Emirates. (Photo by Jeff Bottari/Zuffa LLC via Getty Images)

ABU DHABI, UNITED ARAB EMIRATES – JANUARY 21: Dustin Poirier interacts with media during the UFC 257 press conference event inside Etihad Arena on UFC Fight Island on January 21, 2021 in Yas Island, Abu Dhabi, United Arab Emirates. (Photo by Jeff Bottari/Zuffa LLC via Getty Images)

ABU DHABI, UNITED ARAB EMIRATES – JANUARY 21: Dan Hooker of New Zealand interacts with media during the UFC 257 press conference event inside Etihad Arena on UFC Fight Island on January 21, 2021 in Yas Island, Abu Dhabi, United Arab Emirates. (Photo by Jeff Bottari/Zuffa LLC via Getty Images)

ABU DHABI, UNITED ARAB EMIRATES – JANUARY 21: Conor McGregor of Ireland interacts with media during the UFC 257 press conference event inside Etihad Arena on UFC Fight Island on January 21, 2021 in Yas Island, Abu Dhabi, United Arab Emirates. (Photo by Jeff Bottari/Zuffa LLC via Getty Images)

ABU DHABI, UNITED ARAB EMIRATES – JANUARY 21: (L-R) Opponents Dustin Poirier and Conor McGregor pose face off for media during the UFC 257 press conference event inside Etihad Arena on UFC Fight Island on January 21, 2021 in Yas Island, Abu Dhabi, United Arab Emirates. (Photo by Jeff Bottari/Zuffa LLC via Getty Images)

ABU DHABI, UNITED ARAB EMIRATES – JANUARY 21: (L-R) Opponents Dan Hooker of New Zealand and Michael Chandler face off during the UFC 257 press conference event inside Etihad Arena on UFC Fight Island on January 21, 2021 in Yas Island, Abu Dhabi, United Arab Emirates. (Photo by Jeff Bottari/Zuffa LLC via Getty Images)