UFC light heavyweight champion Glover Teixeira and No. 2 ranked contender Jiri Prochazka ahead of their undisputed title bout taking place this Saturday.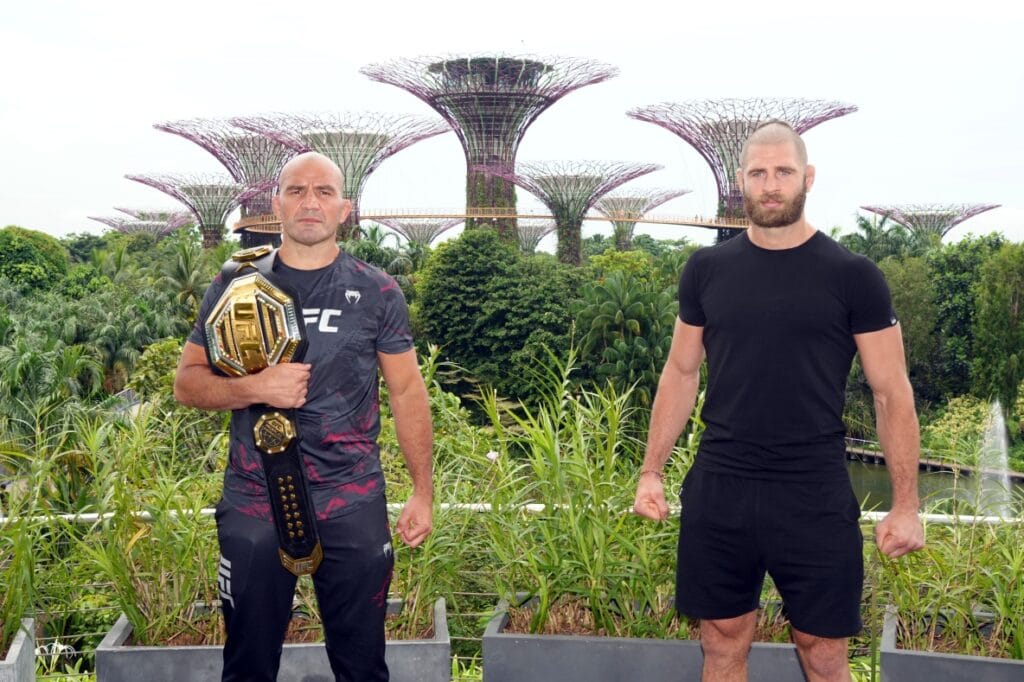 The second-oldest champion in UFC history at 42 years old, Teixiera looks to make a statement this weekend and defend his title for the first time. Prochazka, who is undefeated in the UFC, has finished all but one of his wins and now plans to deliver another explosive performance to claim UFC gold.
Also on the card, No. 1 ranked women's pound-for-pound fighter and UFC flyweight champion Valentina Shevchenko seeks to extend her record for title defenses against No. 4 ranked contender Taila Santos. Additionally, former UFC women's strawweight champions rematch as Zhang Weili and Joanna Jedrzejczyk look to replicate their 2020 Fight of the Year.
UFC 275: TEIXEIRA vs PROCHAZKA takes place Saturday, June 11 from Singapore Indoor Stadium in Singapore
UFC® TO MAKE HISTORY IN SINGAPORE
UFC® 275: TEIXEIRA vs PROCHAZKA WILL MARK UFC'S FIRST PAY-PER-VIEW AND CHAMPIONSHIP TITLE BOUTS HOSTED IN SOUTHEAST ASIA
FEATURED BOUTS INCLUDE
(C) GLOVER TEIXEIRA vs. (#2) JIRI PROCHAZKA
(C) VALENTINA SHEVCHENKO vs. (#5) TAILA SANTOS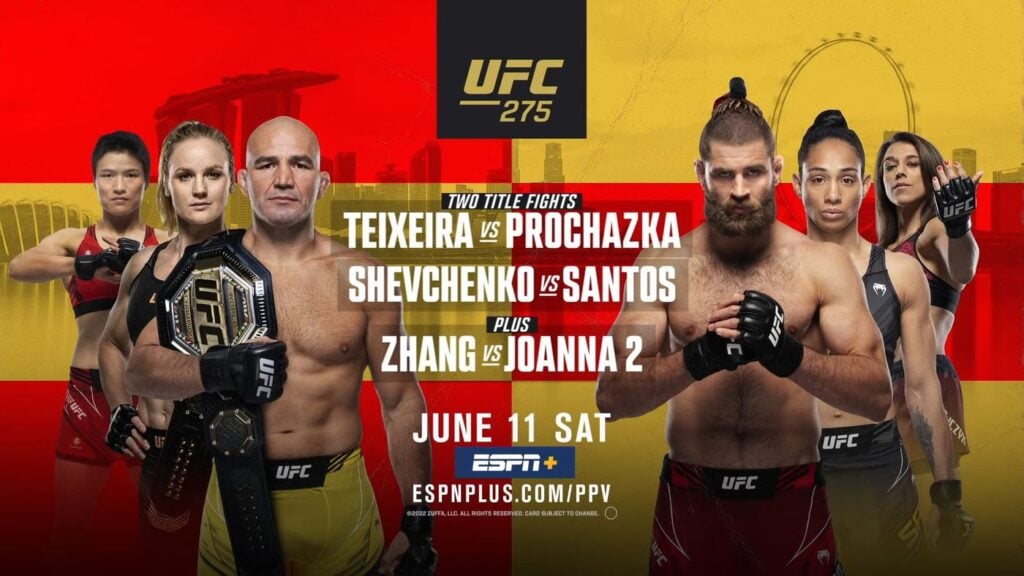 UFC® 275: TEIXEIRA vs PROCHAZKA will take place on Sunday, June 12, at the Singapore Indoor Stadium, making it the first-ever numbered UFC Pay-Per-View to be held in in Southeast Asia. The event will also feature the region's first UFC championship bouts, as UFC world light heavyweight champion Glover Teixeira takes on No. 2 Jiri Prochazka, and UFC world women's flyweight champion Valentina Shevchenko faces No. 5 Taila Santos.
UFC® 275: TEIXEIRA vs PROCHAZKA will be UFC's fourth event hosted in Singapore with support from the Singapore Tourism Board (STB). In planning the return of live events in Asia, UFC selected Singapore because of its proven health and safety track record and its outstanding infrastructure across all components – both of which are key to ensuring the successful production of a premium international event.
UFC® 275: TEIXEIRA vs PROCHAZKA will place Singapore alongside other major international locations to hold multiple UFC events including Tokyo, London and New York City. The presentation of a numbered Pay-Per-View event to Southeast Asia signifies the development of UFC in the region and the mixed martial arts promotion's remarkable global growth.
"I can't wait for our first Pay-Per-View event in Singapore," said UFC President Dana White. "The fights have been incredible this year and we're going to deliver an absolutely stacked card for the amazing fans in Southeast Asia."
"Singapore will be the very first city in Southeast Asia to host a PPV event and UFC 275 is going to be huge! Asia's biggest stars will be featured on a top caliber card, and the jam-packed fight week will be one to remember," said Kevin Chang, UFC Senior Vice President, Asia Pacific. "We are thankful for STB's support for this historic event in Singapore that will proudly showcase this vibrant and dynamic city."
"UFC 275 will be the first UFC numbered event in Asia after a decade, and its presence highlights Singapore's position as a leading destination for sports in the region," Ms Ong Ling Lee, Director, Sports and Wellness, Singapore Tourism Board. "It is also a timely boost to our vibrancy and attractiveness as a lifestyle destination, as more international visitors return to Singapore."
In 2014, UFC held its first event in Singapore, UFC Fight Night: Saffiedine vs. Lim, followed by UFC Fight Night Singapore: Holm vs. Correia in 2017, UFC Fight Night Singapore: Cerrone vs. Edwards in 2018, and UFC Fight Night: Maia vs. Askren in 2019. UFC® 275: TEIXEIRA vs PROCHAZKA will be the fifth event overall to be held in Singapore.
Leading global live entertainment company AEG Presents has been appointed as the official promoter of UFC® 275: TEIXEIRA vs PROCHAZKA in Singapore.
"AEG is extremely proud to be associated with UFC to bring this marquee event to Singapore," said Adam Wilkes, President and CEO, AEG Asia Pacific. "UFC 275 will be an amazing experience for fight fans and for those who love, and have missed, world class events."
UFC WORLD LIGHT HEAVYWEIGHT CHAMPIONSHIP
In the ultra-competitive light heavyweight division, UFC world champion Glover Teixeira (33-7, fighting out of Bethel, CT, USA by way of Governador Valadares, Brazil) will make his first title defense since winning the belt with a second-round submission of Jan Blachowicz at UFC 267. Standing across the Octagon will be first-time title contender Jiri Prochazka (28-3-1, fighting out of Hosteradice, Czechia) who earned his shot with back-to-back KOs of No. 7 Volkan Oezdamir in his UFC debut then No. 3 Dominick Reyes.
UFC WORLD WOMEN'S FLYWEIGHT CHAMPIONSHIP
Women's pound-for-pound best, UFC world women's flyweight champion Valentina Shevchenko (22-3, fighting out of Bishkek, Kyrgyzstan) will make her seventh defense of the title and look to extend her eight-fight win streak. Dana White's Contender Series veteran and No. 5 contender Taila Santos (19-1, Jaragua Do Sul, Brazil) earns her first title contention after a blazing four-fight win streak.
UFC® 275: TEIXEIRA vs PROCHAZKA 
SAT, JUN 11 / 7:00 PM MST
ORDER ON ESPN+
MAIN CARD
C GLOVER TEIXEIRA LIGHT HEAVYWEIGHT TITLE BOUT VS #2 JIRI PROCHAZKA
C VALENTINA SHEVCHENKO WOMEN'S FLYWEIGHT TITLE BOUT VS #4 TAILA SANTOS
#2 ZHANG WEILI WOMEN'S STRAWWEIGHT BOUT VS JOANNA JEDRZEJCZYK
#8 ROGERIO BONTORIN FLYWEIGHT BOUT VS #14 MANEL KAPE
JACK DELLA MADDALENA WELTERWEIGHT BOUT VS RAMAZAN EMEE
PRELIMS
SAT, JUN 11 / 5:00 PM MST
WATCH ON ESPN OR ESPN+
SEUNGWOO CHOI FEATHERWEIGHT BOUT VS JOSH CULIBAO
BRENDAN ALLEN MIDDLEWEIGHT BOUT VS JACOB MALKOUN
MAHESHATE LIGHTWEIGHT BOUT VS STEVE GARCIA
ANDRE FIALHO WELTERWEIGHT BOUT VS JAKE MATTHEWS
Early Prelims
SAT, JUN 11 / 3:30 PM MST
WATCH ON UFC FIGHT PASS
KYUNG HO KANG BANTAMWEIGHT BOUT VS BATGEREL DANAA
LIANG NA WOMEN'S STRAWWEIGHT BOUT VS SILVANA JUAREZ
RAMONA PASCUAL WOMEN'S FEATHERWEIGHT BOUT VS JOSELYNE EDWARDS
Fans can stay up to date on ticket presale promotions by visiting and registering at https://ufc.com/presale.