BKFC 3: The Takeover This Saturday, October 20 Live onPay-Per-View from the Mississippi Coast Coliseum in Biloxi, Mississippi


Headlined by Heavyweight Tournament Final Between Sam Shewmaker & Arnold Adams; Plus! Kendall Grove & Joe Riggs Enter the Ring in Separate Bouts & Lightweight Tournament Quarterfinal Action
BILOXI, MS (October 19, 2018) – Two days before they battle in the first ever legally regulated and sanctioned championship bare knuckle fight, heavyweightsSam Shewmaker and Arnold Adams went face-to-face Thursday and exchanged words at a press conference for Bare Knuckle Fighting Championship (BKFC) showdown this Saturday, October 20 live on pay-per-view from the Mississippi Coast Coliseum in Biloxi, Mississippi.
Watch the BKFC weigh-in today at 5 p.m. ET live on FITE TV.
In addition to the heavyweight tournament final between Shewmaker and Adams, the action will feature MMA veterans Kendall Grove and Joe Riggs in separate attractions, as part of a jam-packed night of bare knuckle action where Grove will battle former University of Alabama linebacker Marcel Stamps and Riggs will meet Brok Weaver.
"BKFC 3: The Takeover"
will be broadcast at 9 p.m. ET across the United States and Canada, exclusively on pay-per-view through MultiVision Media, Inc., on all major television and streaming distribution outlets for $29.95. Tickets for "BKFC 3: The Takeover" are available now exclusively at 
www.bareknuckle.tv
 beginning at $35. Prelims will stream live at 8 p.m. ET on the BKFC Facebook page, while Friday's weigh-in airs on FITE TV at 5 p.m. ET.
Saturday's card will also see the quarterfinals of the BKFC lightweight tournament, including UFC veteran Johnny Bedford in action against Matt Murphy.Returning for his second BKFC fight is local Gulfport Police officer Harris Stephenson, who takes on Florida's Elvin Britto.
Here is what the fighters had to say Thursday from the Mississippi Coast Convention Center:
SAM SHEWMAKER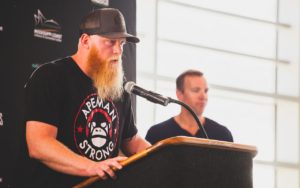 "It an honor to be here with these elite fighters here in Mississippi as we bring back this great combat sport. This is history in the making and I know that our heavyweight fight is going to be fireworks from both sides.
"We're ready to lay it all down and everyone should get ready for us to deliver the fight of the night. Don't blink because you're not going to want to miss anything."
ARNOLD ADAMS
"I'm here to do work. Plain and simple. There are levels to this.
"This has been a long time coming for me. I've said it before, but I'm really hungry. You're going to see it in the ring on Saturday night."
KENDALL GROVE
"It's great to have this opportunity to showcase my skills once again. I'm a mixed martial artist and I've fought in a lot of disciplines. I love being here and I'm thankful to be a part of this organization.
"We're building the foundation of the sport and I'm planning to keep putting on great performances to keep earning my place back into the ring."
JOE RIGGS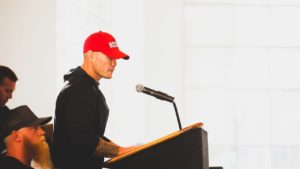 "My opponent predicted a first round knockout, but he's only gonna be right about the time. I'm ready to put on a show for all the fans and end this one early. I'm thankful for this opportunity and I'm going to make the most of it."
JOHNNY BEDFORD
"I'm super thankful to be a part of this. I said from the beginning that I'm going to be a star in BKFC and this is a chance to continue to show why.
"I'm the big dog on this block in this tournament and I will be the future lightweight champion. You can expect fireworks on Saturday night."
HARRIS STEPHENSON
"I'm proud to be back again fighting at home. I didn't know what to expect in my first fight, but I got a lot of positive feedback. I really believe once people see more of this sport it's really going to take off.
"I can't wait to show off my skill set and solidify myself here heading into 2019 so I can keep putting on great bare knuckle fights. I'm hoping to have another positive result and put on a show for everybody."
# # #
About Bare Knuckle Fighting Championship
On June 2, 2018, Philadelphia-based Bare Knuckle Fighting Championship (BKFC) made combat sports history when it promoted the first legal, sanctioned and regulated bare knuckle event in the United States since 1889. "BKFC 1: The Beginning" took place in Cheyenne, Wyoming and featured 10 professional bouts, all under the auspices and control of the Wyoming Combative Sports Commission.
BKFC uses only established fighters who have previously competed professionally in boxing, MMA, kickboxing and/or Muay Thai. All BKFC bouts are sanctioned and regulated by ABC member Athletic Commissions.
"BKFC 3: The Takeover" will be sanctioned and regulated by the Mississippi Athletic Commission, which is headed by Chairman Jon Lewis.
For more information visit www.bareknuckle.tv or follow on Twitter at @BareKnuckleFC, on Instagram at www.instagram.com/bareknucklefc and on Facebook at 
www.facebook.com/bareknucklefc
.