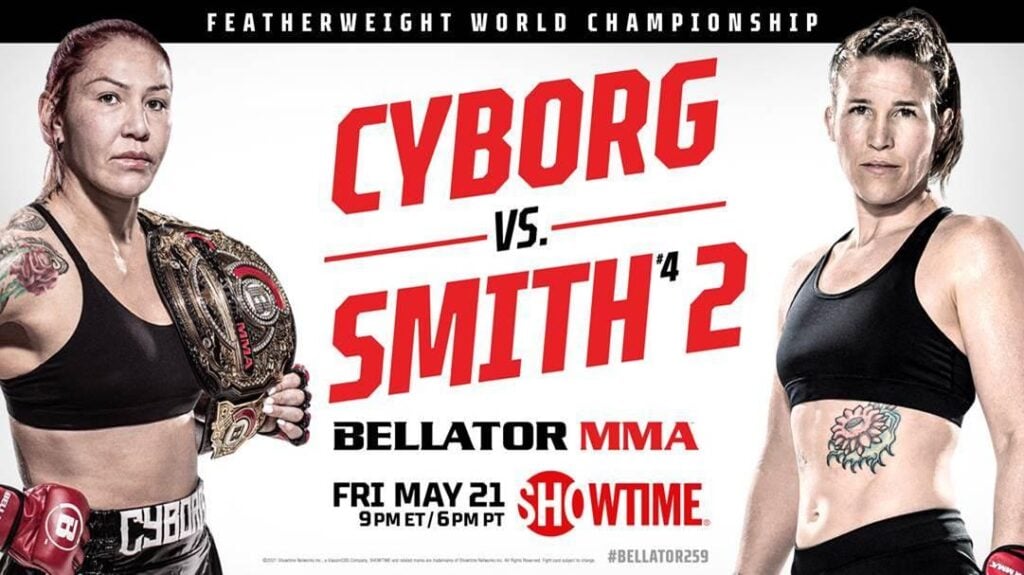 Carlos Ortiz from MMA Fight Coverage speaks with the # 7 ranked Bellator MMA Light Heavyweight Tyree Fortune ahead if his fight against the # 6 ranked Light Heavyweight holding the identical fight record of 5-0 Grant Neal taking place Friday, May 21, at Bellator 259: Cyborg vs. Smith 2 airing on SHOWTIME from Mohegan Sun Arena Uncasville, CT.
Tyree Fortune has an undefeated record after 5 professional fights heading into his 3rd Bellator MMA event. The twin brother to fellow Bellator MMA Heavyweight fighter Tyrell Fortune is based out of Portland Oregon at American Top Team. Tyree remains where the two were born while Tyrell lives in Tempe Az and trains out of Arizona Combat Sports.
The included audio enters into some technical difficulties toward the end. Here are some of the things that were said below. For the entire interview please take a listen.
"What I know about Grant is he will come forward and he is ready to fight."
"My strategy is to keep pace with him and if I see a finish, go for it. "
Will we being seeing Tyree here with his brother in the Phoenix area: "I'm probably going to start cross training with them. Just to get the experience because I have never trained anywhere else. It will be a great turning point in my career. I need to have experiences, that's how you grow as a person as an athlete." According to Tyree's Facebook Page he is Fighter/Coach out of American Top Team PDX / Bellator MMA Coach at Peninsula Wrestling Club.
"I would like to fight my way to the title but after the tournament if somebody wants to fight for the title that's just fine too. I want to earn it. I don't want it gifted to me."
BELLATOR MMA 259: Cyborg vs. Smith 2 Main Card:
SHOWTIME
9 p.m. ET/6 p.m. PT
Featherweight World Title Main Event: c-Cris Cyborg (23-2, 1 NC) vs. #4-Leslie Smith (12-8-1)
Bantamweight Co-Main Event: Darrion Caldwell (15-4) vs. #6-Leandro Higo (20-5)
Middleweight Bout: #3-Austin Vanderford (10-0) vs. #4-Fabian Edwards (9-1)
Welterweight Bout: Jaleel Willis (14-2) vs. Maycon Mendonca (11-4)
Light Heavyweight Bout: #9-Christian Edwards (4-0) vs. Ben Parrish (4-1)
Preliminary Card:
BELLATOR MMA YouTube Channel | SHOWTIME Sports YouTube Channel | Pluto TV
5:30 p.m. ET/2:30 p.m. PT
Lightweight Bout: Saad Awad (23-13, 1 NC) vs. Nate Andrews (16-3)
Light Heavyweight Bout: #7-Grant Neal (5-0) vs. #8-Tyree Fortune (5-0)
Flyweight Bout: Sumiko Inaba (1-0) vs. Kristina Katsikis (1-1)
Lightweight Bout: Aviv Gozali (5-0) vs. Sean Felton (5-2-1)
Flyweight Bout: #8-Valerie Loureda (3-0) vs. Hannah Guy (2-1)
Heavyweight Bout: Davion Franklin (2-0) vs. Tyler King (12-9)
Featherweight Bout: #6-Janay Harding (6-4) vs. #7-Leah McCourt (4-1)
Lightweight Bout: #9-Alfie Davis (14-3) vs. Alexander Shabliy (19-3)
*Card subject to change.