UFC Fight Night Smith vs Spann
Sept 18 2021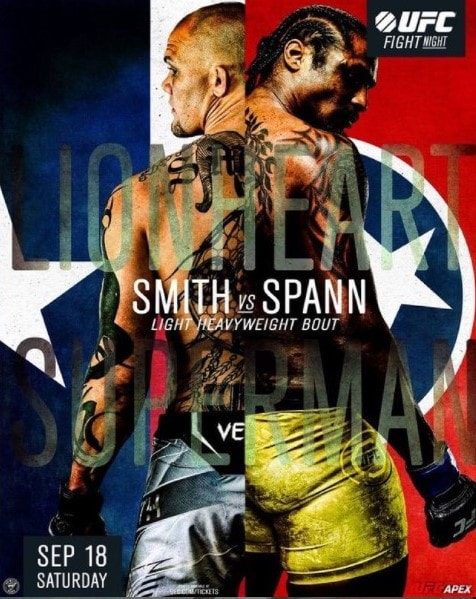 Carlos Ortiz and Dallas Hall from MMA Fight Coverage chat with UFC current #6 ranked Light Heavyweight Anthony "Lionheart" Smith. Smith is fighting the Main Event UFC Fight Night Sept. 18. Prelims and the Main card will air on ESPN+ from the UFC Apex Las Vegas. The main event opponent is Ryan Spann who is currently ranked at #11.
What started out with Penny Buffington from MMA Fight Coverage and Anthony joking around via text ended up as a conversation that included MMA Fight Coverage Official UFC Rankings Panel Member Shawn "Dallas" Hall.
Smith says after this fight, "Preferably I am not going to take someone who is ranked below me. This will be 3 in a row. I think I have earned my way back after stubbing my toe a couple of times. I think I made up for that. I'm going to look ahead. I don't necessarily want to fight someone coming off multiple losses so that kind of eliminates Reyes and Thiago Santos as much as both of those fights interest me. They seem like they would be a lot of fun, both those match ups especially Thiago I like Thiago as a person he's a good dude. It kind of leaves me the odd man out because it doesn't look like Rakic wants to fight unless it's a tile shot so unless I skip him, I don't know.'
Smith: "I don't really give a shit where I'm ranked to be honest with you. Sometimes I wonder and not you ( speaking to Dallas) obviously because you know I really enjoyed the response to it and the analyst behind it and reasonings I can't argue with it."
Here is where I lay down the background to how the conversation started. I hit up Anthony via text to ask for an interview to promote his upcoming fight. We ended up getting way off track during the interview which became more a discussion with little mention of the fight. Which is a bit of a shame.
During our text conversation I was asking to book Anthony to be interviewed by MMA Fight Coverage Carlos Ortiz. Smith was questioning whether I booked for multiple media outlets or not since he associated me with our former name MMA Fight Radio. I explained to him we have been MMA Fight Coverage for a while now even though our name is still listed as MMA Fight Radio on the official UFC Fighter Rankings page. Smith then joked, "You guys vote on the rankings? Oh, I got some beef with you lol." I then explained that Dallas takes the position very seriously.
Smith asked, "How the hell are Reyes and Thiago ranked above me? I've gotten two finishes over good guys and they're both on a 3 fight losing streaks lol" So I went and asked Dallas just that, "He's 5 in my rankings. Santos has a win over current champ and all 3 losses are the same except: split to #2 p4p Jones, Tough strength of schedule. Santos, Jan win is big. He's 3-3 in last 6 and Smith is 3-3 in last 6. Santos has by far the better win though Smith has 2 straight. It's a very close race. Smith should pull ahead if he wins next fight." To this Smith responded, "You know… I accept that. Good for him. Love the logic. Makes sense, thought out and analytical." This is when we decided it would be fun to have Dallas join Carlos for our scheduled interview with "Lionheart".
The discussion then continues via Zoom video. Full on UFC Rankings discussion that leads into Judging as well. Dallas Hall explains his criteria that he uses to rank the fighters and explains his method. He also goes into the reasons why he takes his position very seriously. Both Dallas and Anthony believe in transparency which then leads to a great discussion. Please take a listen:
RANKED CURRENT UFC LIGHT HEAVYWEIGHT
JAN BLACHOWICZ CHAMPION
1 Glover Teixeira
2 Jiri Prochazka
3 Aleksandar Rakic
4 Thiago Santos
5 Dominick Reyes
6 Anthony Smith
7 Magomed Ankalaev
8 Volkan Oezdemir
9 Nikita Krylov
10 Johnny Walker
11 Ryan Spann
12 Paul Craig
13 Misha Cirkunov
14 Jim Crute
15 Jamahal Hill
For a complete list of the UFC Rankings https://live.ru.ufc.com/rankings
TOP LIGHT HEAVYWEIGHT FINISHERS
(#6) ANTHONY SMITH AND (#11) RYAN SPANN
FACE OFF AT UFC® APEX IN LAS VEGAS
FEATURED BOUTS:
ION CUTELABA vs DEVIN CLARK
JIM MILLER vs NIKOLAS MOTTA
Las Vegas – UFC® returns to UFC APEX with an exciting matchup in the light heavyweight division, as No. 6 ranked contender Anthony Smith faces off with No. 11 Ryan Spann. In the co-main event, fellow 205ers Ion Cutelaba and Devin Clark aim to steal the show.
UFC FIGHT NIGHT®: SMITH vs SPANN will take place Saturday, September 18 from UFC APEX in Las Vegas. All bouts will stream on ESPN+, with the prelims beginning at 1 p.m. PT/ 4 p.m. ET and the main card at 4 p.m. PT/ 7 p.m. ET.
Former light heavyweight title challenger Smith (35-16, fighting out of Omaha, Neb.) boasts an impressive 94 percent finishing rate and plans to take out Spann in classic fashion. Smith is currently undefeated in 2021, having secured two first-round finishes over Jimmy Crute and Devin Clark. He now has his sights set on continuing his streak and defending his spot in the top 10 of the division.
Spann (21-6, fighting out of Beaumont, Texas) intends to deliver his best performance yet in his first UFC main event effort. A signee from season 2 of Dana White's Contender Series, Spann quickly rose through the light heavyweight ranks with notable victories over Antonio Rogerio Nogueira, Sam Alvey and, most recently, Misha Cirkunov. He now looks to notch the most important win of his career by defeating Smith.
Always entertaining Cutelaba (15-6-1, fighting out of Chisinau, Moldova) seeks to get back to his winning ways and re-assert himself as a future title contender. The owner of 13 first-round finishes, including 10 in 1:13 or less, Cutelaba established himself as one of the most dangerous strikers in the light heavyweight division with wins over Khalil Rountree, Gadzhimurad Antigulov and Luis Henrique da Silva. He now aims to prove that he still has his best performances ahead of him by finishing Clark.
Clark (12-5, fighting out of Sioux Falls, S.D.) looks to make his first fight of 2021 a successful one by earning his first UFC stoppage. The 2009 NJCAA wrestling champion, he has displayed his skills with wins over Alonzo Menifield, Darko Stosic and Mike Rodriguez. Clark now plans to show that he can compete with the elite with a dominant performance against Cutelaba.
Additional bouts on the card include:
UFC legend Jim Miller (32-16, 1 NC, fighting out of Sparta, N.J.) returns to the Octagon for a record-breaking 38th time when he looks to spoil the UFC debut of Dana White's Contender Series signee Nikolas Motta (12-3, fighting out of Governador Valadares, Brazil) in a lightweight bout
An exciting women's flyweight bout sees Ariane Lipski (13-7, fighting out of Curitiba, Brazil) aim to hand Mandy Bohm (7-0, fighting out of Gelsenkirchen, Nordrhein-Westfalen, Germany) her first loss
No. 14 ranked lightweight contender Arman Tsarukyan (16-2, fighting out of Krasnodar Krai, Russia) plans to show off his grappling skills against Christos Giagos (19-8, fighting out of Hawthorne, Calif.)
Middleweight finishers lock horns as Joaquin Buckley (12-4, fighting out of St. Louis, Mo.) meets Antonio Arroyo (9-4, fighting out of Albuquerque, N.M. by way of Nazare, Para, Brazil)
Light heavyweight Dana White's Contender Series alums Mike Rodriguez (11-6, 1 NC, fighting out of South Easton, Mass.) and Tafon Nchukwi (5-1, fighting out of Temple Hills, Md.) vie to secure another highlight reel knockout
No. 12 ranked women's bantamweight contender Pannie Kianzad (16-5, fighting out of Helsingborg, Skåne County, Sweden) aims to defend her spot in the rankings against former title challenger Raquel Pennington (11-9, fighting out of Colorado Springs, Colo.)
Top bantamweight prospects Nate Maness (13-1, fighting out of Henderson, Ky.) and Tony Gravely (21-6, fighting out of Coconut Creek, Fla.) collide
Lightweights Dakota Bush (8-3, fighting out of St. Claire, Mo.) and Rongzhu (17-4, fighting out of Chengdu Shi, Sichuan Sheng, China) compete to earn their first UFC victories
Dana White's Contender Series veterans compete as Montel Jackson (11-2, fighting out of Milwaukee, Wisc.) takes on JP Buys (9-3, fighting out of Sacramento, Calif. by way of Johannesburg, South Africa) at bantamweight
Erin Blanchfield (6-1, fighting out of Elmwood Park, N.J.) hopes for a successful UFC debut when she battles Sarah Alpar (9-5, fighting out of Oklahoma City, Okla.) in a women's flyweight bout
Impa Kasanganay (9-1, fighting out of Charlotte, N.C.) and Carlston Harris (16-4, fighting out of Rio de Janeiro, Brazil) meet in a welterweight bout
Bantamweights Gustavo Lopez (12-6, fighting out of Las Vegas, Nev.) and Alatengheili (14-8, 1 NC, fighting out of Shanghai, China) clash in a high-paced matchup
Emily Whitmire (4-4, fighting out of Las Vegas, Nev.) hopes to secure another signature submission against Hannah Goldy (5-2, fighting out of Orlando, Fla.)
Visit the UFC.com for information and content to support your UFC coverage.